North Vegas 2016 Test
Information of the new Vegas 2016!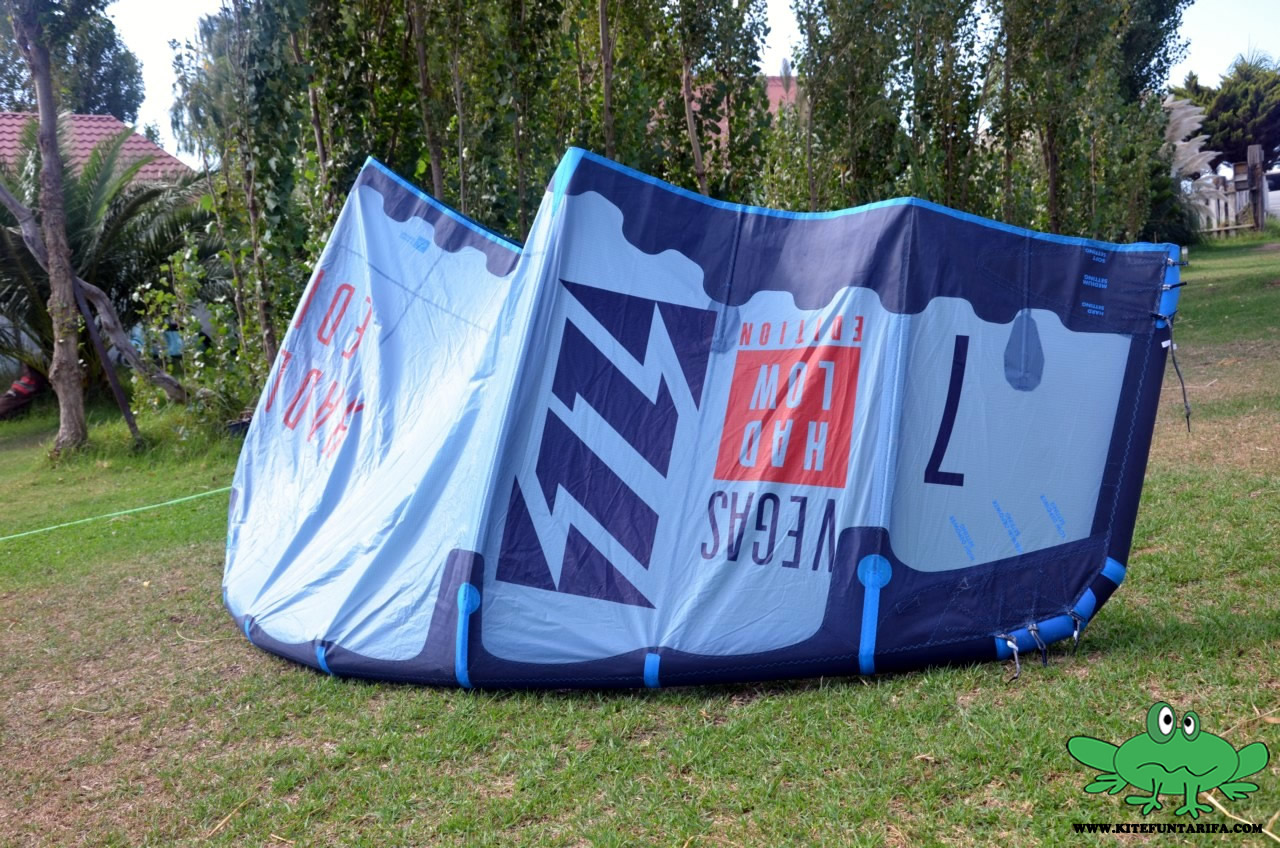 The new North Vegas 2016 is already here. This kite needs no introduction, but if someone is lost, the Vegas is North´s kite for new school / wakestyle. It is a C shape kite oriented to riders looking for a high performance kite for extreme tricks.
Beginning with the review, the backpack is large and spacious and includes a repair kit, manual and the Hadlow setup kit (conversion from 5 to 6 lines).
Kite Construction: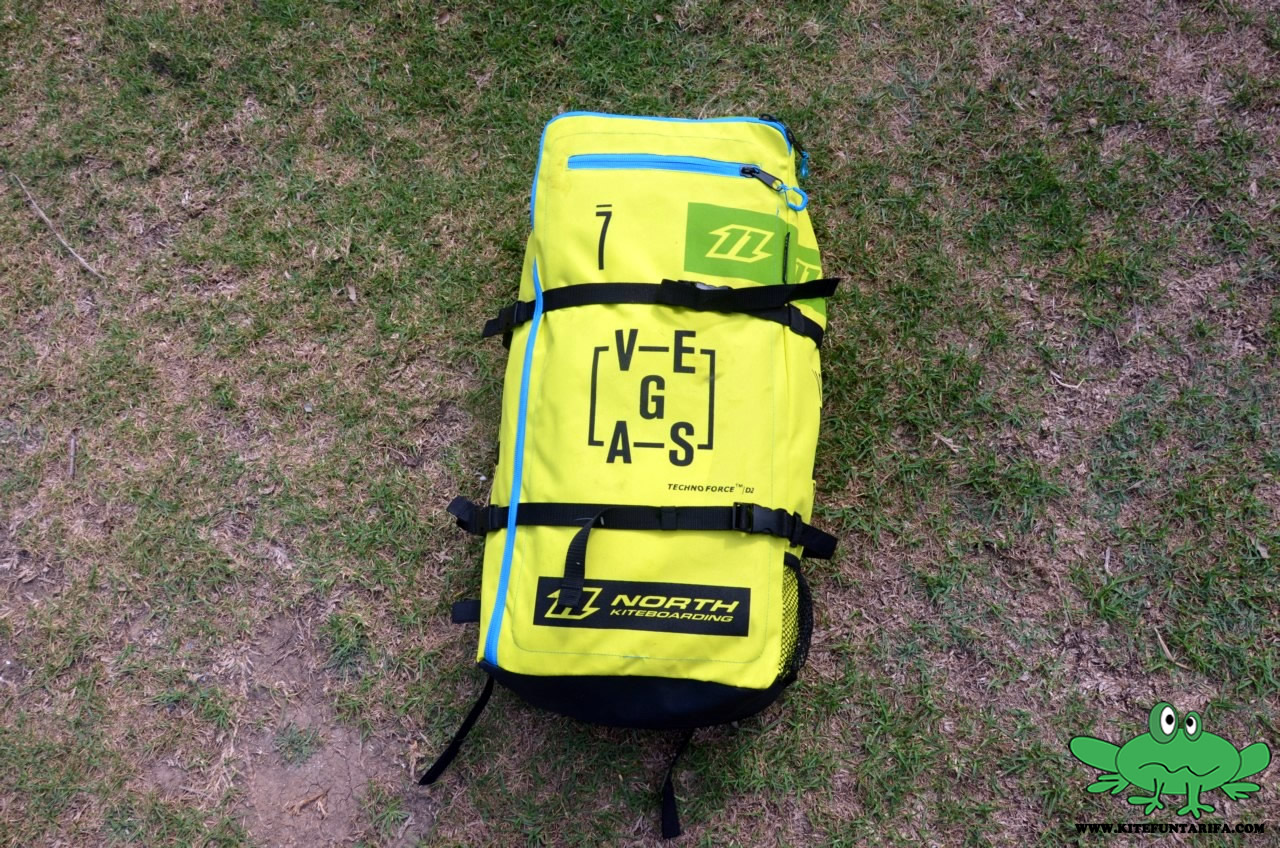 When we opened the new North Vegas 2016, the first impression is that you face a well-constructed kite. As mentioned in other 2016 North kites reviews, this year North introduced Dacron patches in the struts area to protect canopy from valves.



Vegas also incorporates a strip of Dacron on the trailing edge (as in previous years) and a new strip coming out from the leading edge. Undoubtedly, all these changes will give the new Vegas 2016 more life and less wear.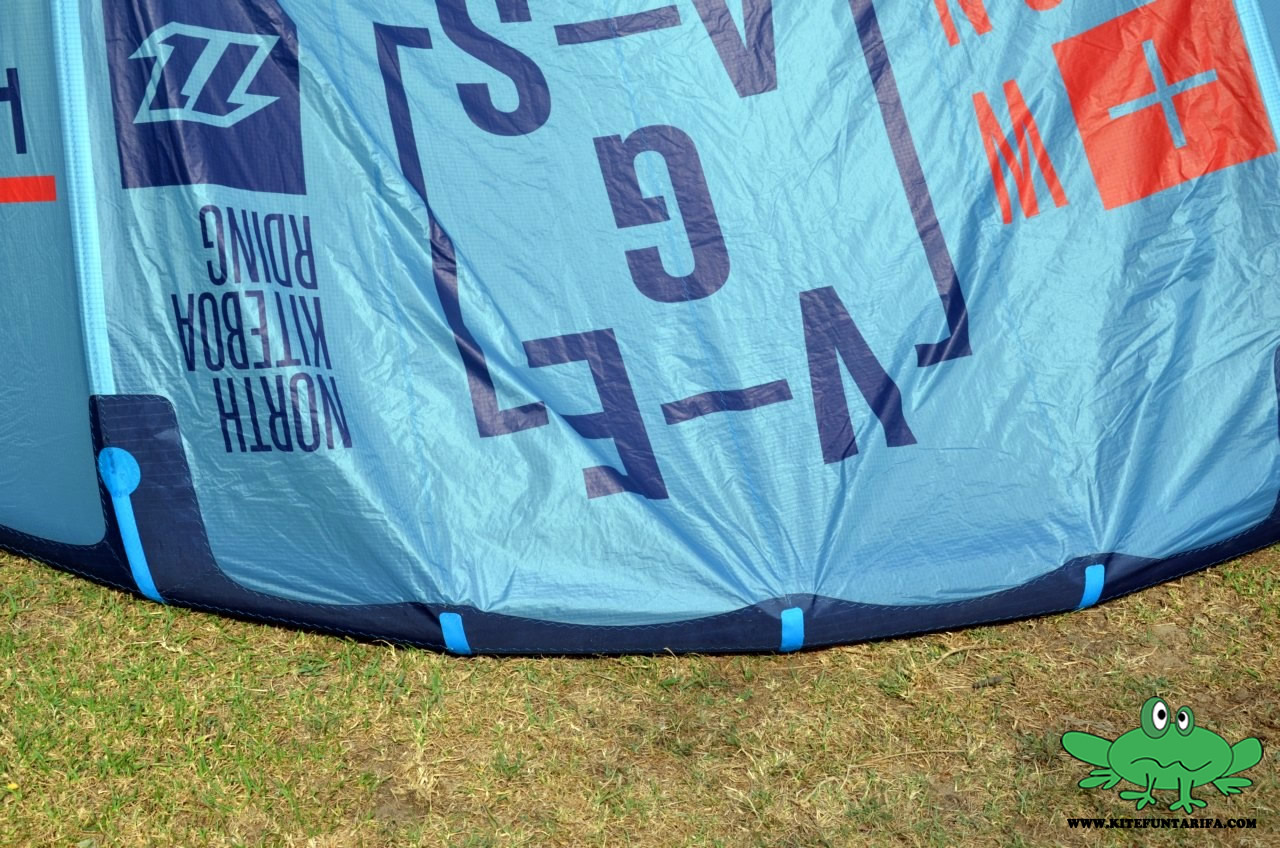 Moreover, we found a kite with a multitude of settings. We begin with back lines settings. Here we found North classic options with a Soft / Medium / Hard setting.
Putting the pigtail in Soft Setting you get a kite with less bar pressure, faster and closed turn developing smoothly power.
In Hard Setting kite has a heavy bar pressure, the handling is more precise, its rotation and kiteloop generates more power and above all, makes it slower and less sensitive, so this configuration is what we recommend for unhooked tricks.
Medium Setting is halfway between the two of them and is the default setting in the kite.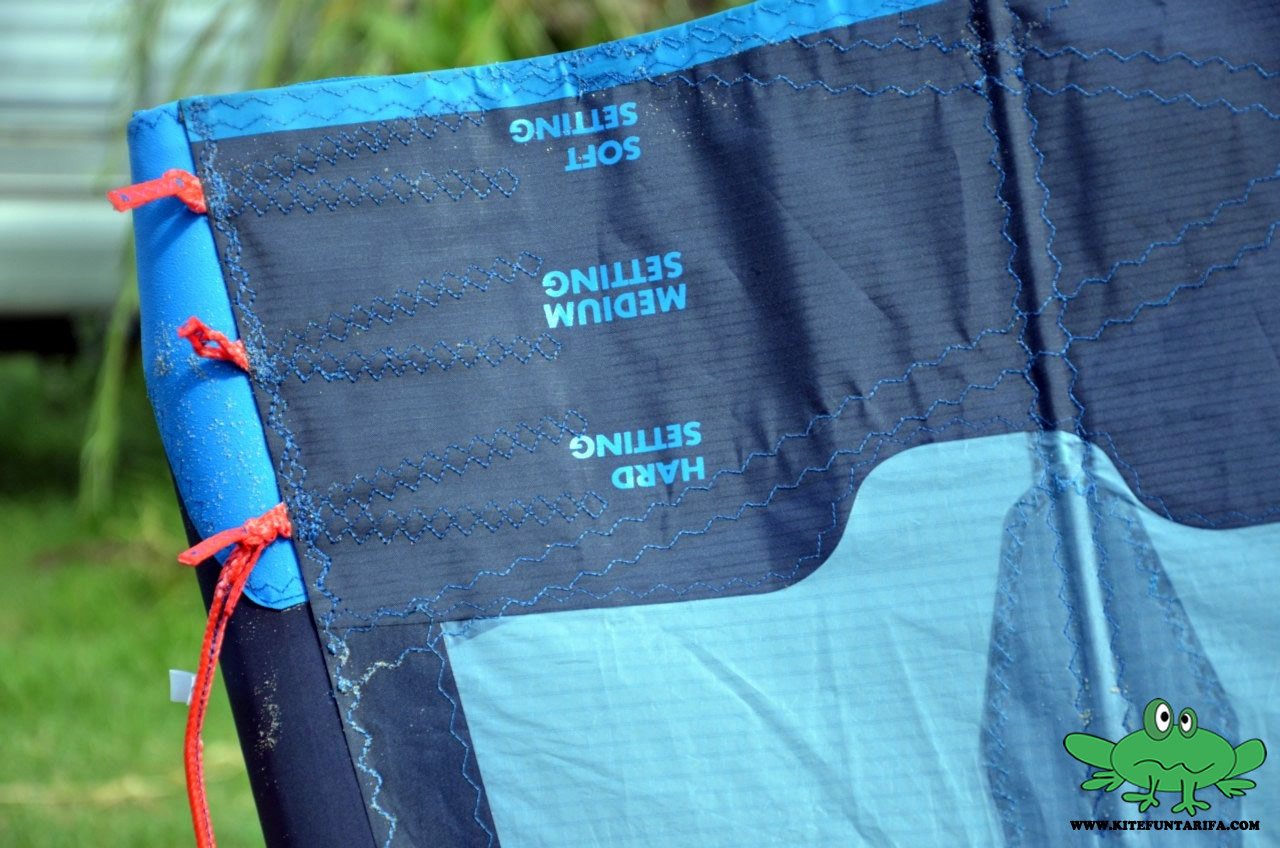 We can also configure the front lines between High Depower / Medium Depower / Low Depower. The Vegas is a C shape kite, but if you put pigtails in High Depower you'll have a kite that has enough depower, jumps reasonably well and is quite reactive. If you come from a 2013/14 Vegas, this is the setting that will give you a feeling like that model and therefore, a more accessible kite for everyone.

If you change the pigtail to Low Depower setting, you will discover a wakestyle oriented kite that developes more pop and slack (delay in power release, essential to make handlepasses). If you combine this setting with Hard Setting in the back lines, you have the perfect setup for unhooked tricks.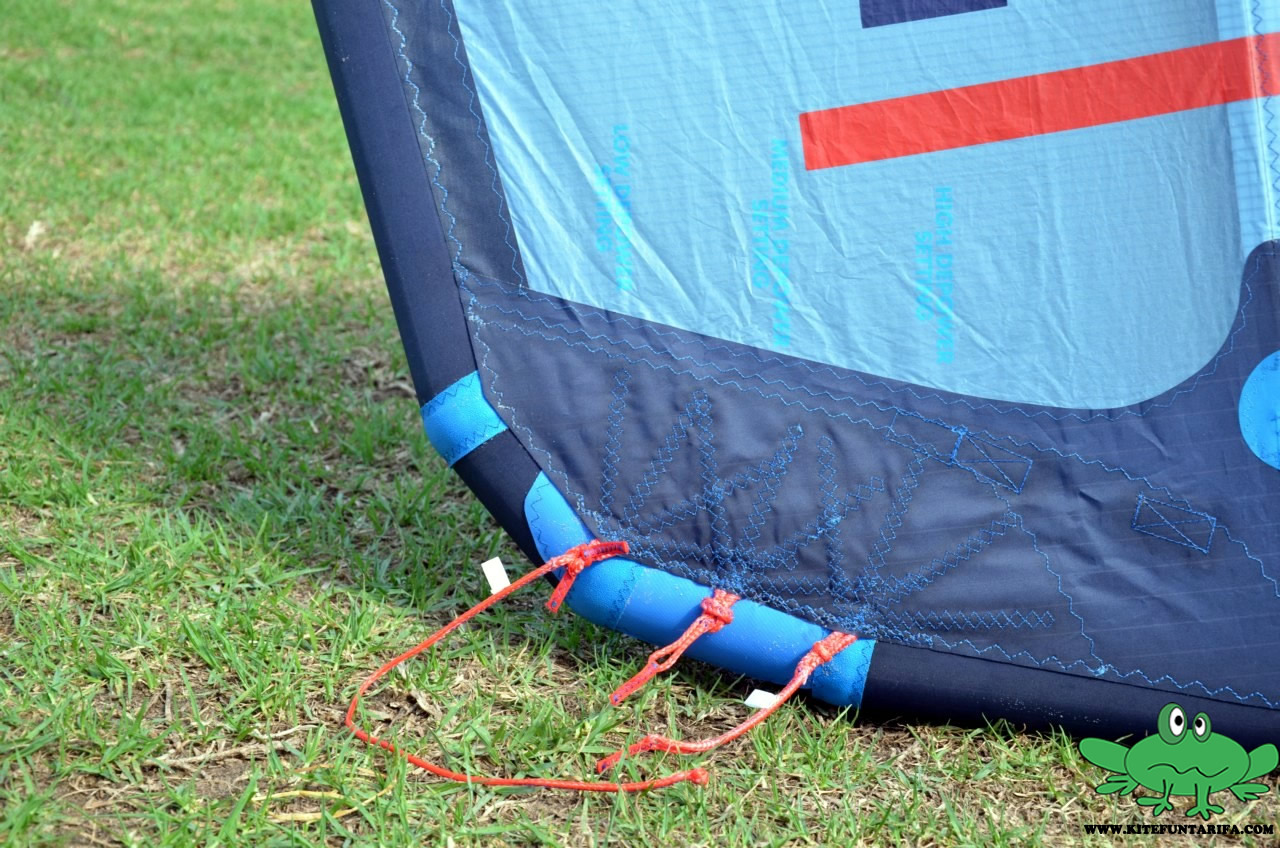 Vegas 2016 offers another setup called Hadlow Setting. To put this setup you need to have the North Wakestyle bar and make some adjustments in the kite and bar, which will go from 5 to 6 lines. It is the most extreme Vegas setup, where you get more pop and a massive slack.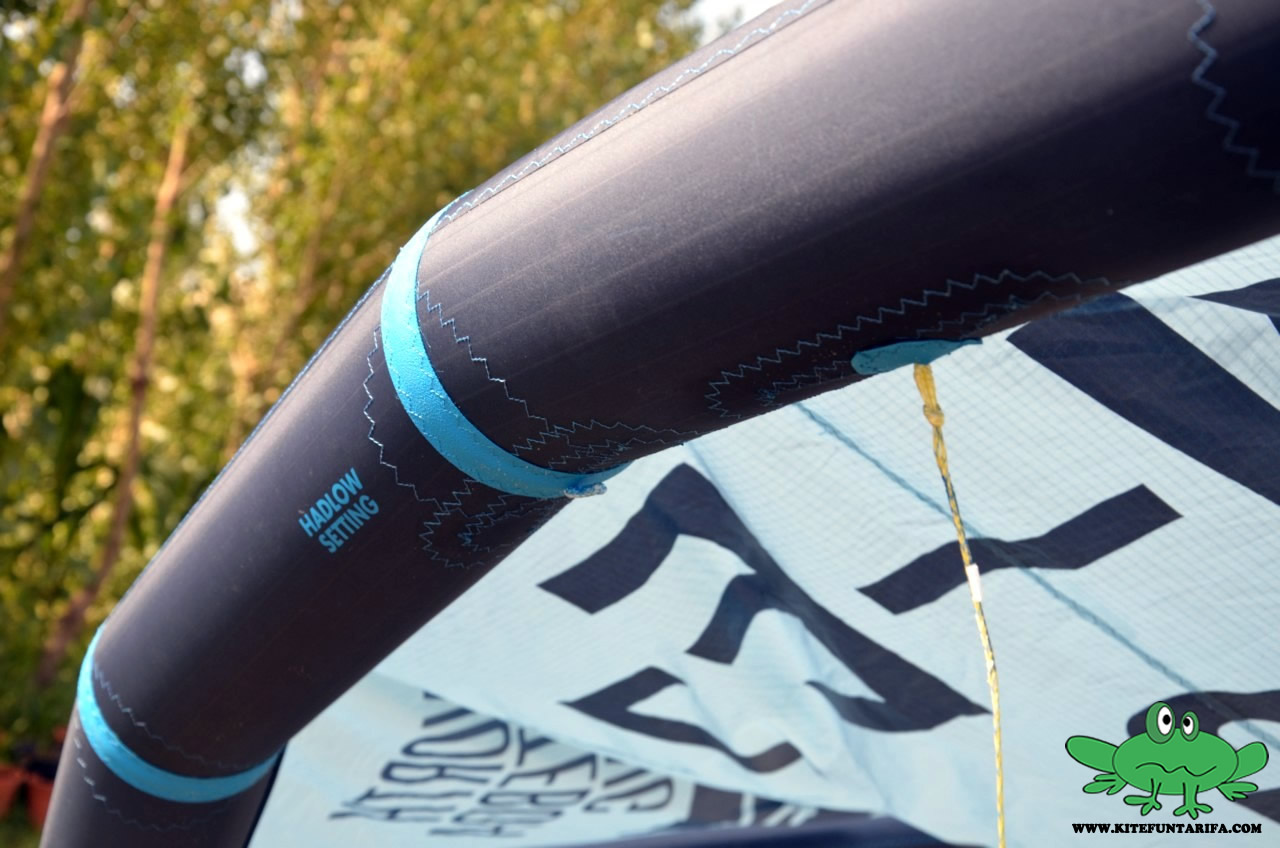 Trying the new North Vegas 2016:
We were able to test the new Vegas 2016 in 7m and 10m with a 2016 wakestyle bar in 5 lines. Both kites have been the Hadlow version, where the only difference from the Vegas is the color, nothing else changes between the two versions that can be configured in the same way.

We tested the 10m with winds from 14-25 knots. We have a kite that does its job with Low depower / Hard setting very well. Vegas feels as a very compact kite in the air and has a big delate feeling in the bar. To all this, add a very explosive pop and you get a perfect kite for unhooked tricks. The wind range is good and its relaunch is very simple thanks to the fifth line. This setup is perfect to pull the most powerful and radical tricks.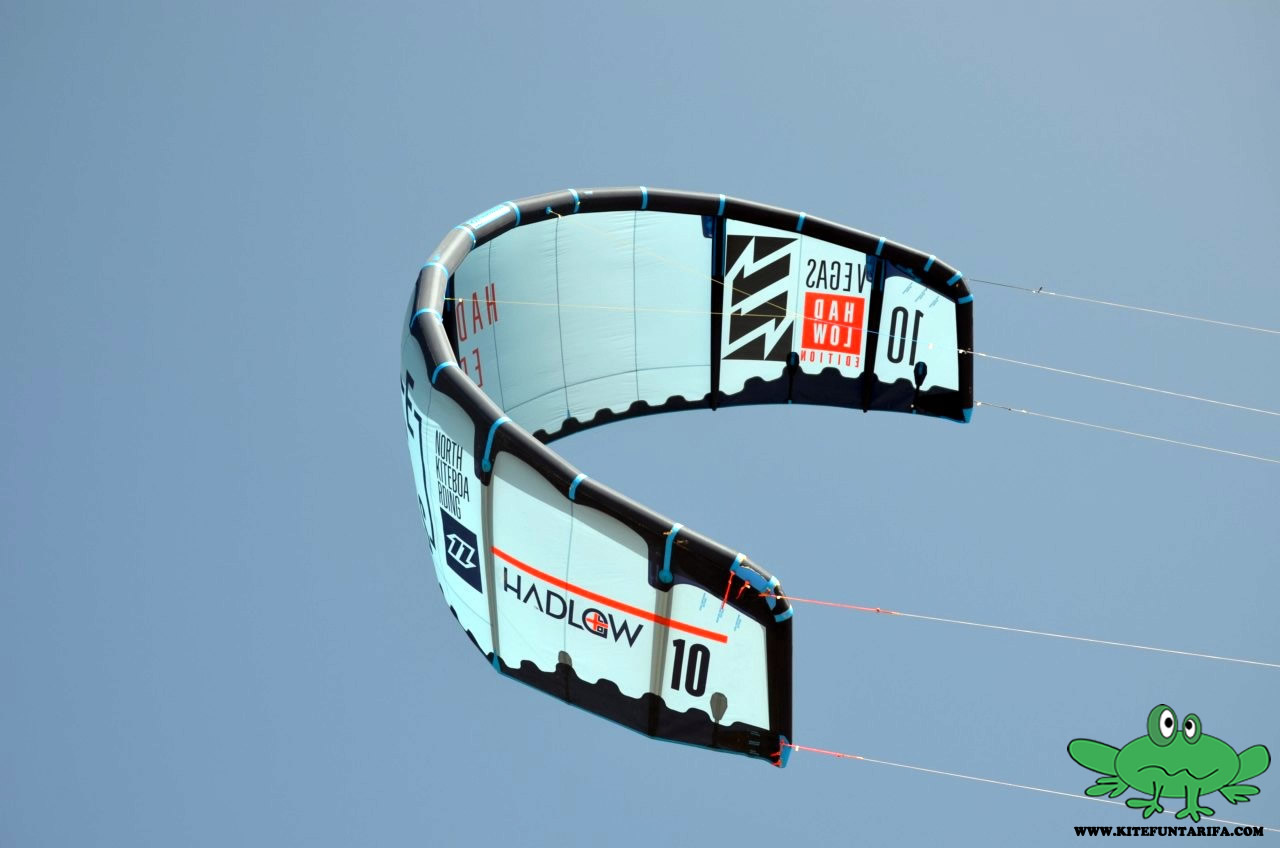 We tried the 7m in 2 different settings. With the High Depower / Medium Setting and winds over 30 knots you find a kite that absorbs the gusts properly and very easy to fly. With this configuration you can get a smoothly session with any wind condition and with a wind range almost without limits in the high end. During one of the days we had winds of 33-37 knots and we had no need to touch the depower. The kite jumps reasonably good and hang time is also good, but if you're looking for a kite to jump high and fly, there are certainly many better options than this kite in 7m, as North Dice 7m 2016.

When we tested the kite with Low Depower / Hard Setting, we found what we expected. A pretty good kite to unhook with stronger winds.. Although the kite leaves you clear from the beginning that unhook under these conditions requires a lot of skill and practice.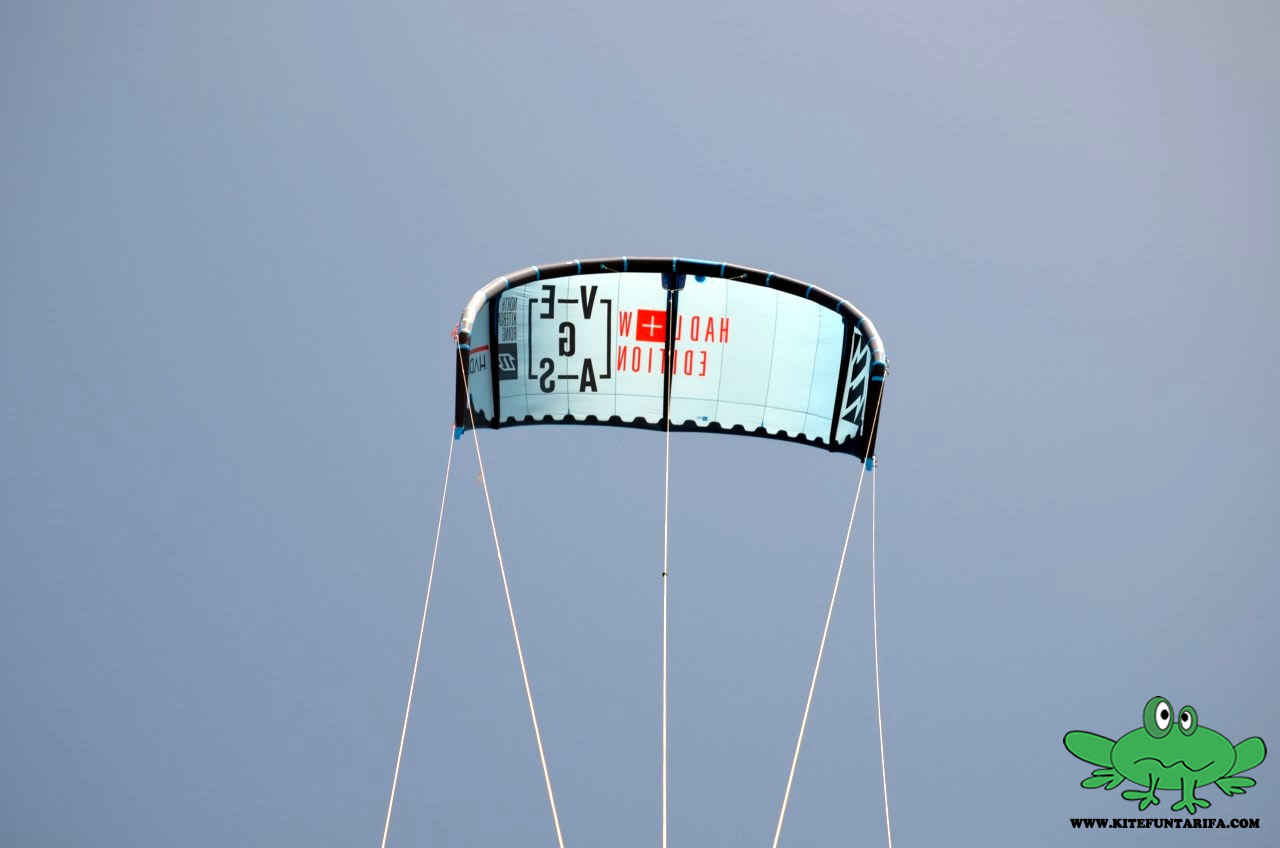 North Vegas 2015 vs North Vegas 2016:
Just taking the backpack from new 2016 Vegas we appreciated differences. The backpack is significantly larger than the previous year. The construction of the kite is also improved. As mentioned above, the kite incorporates Dacron patches in the struts and a wavy Dacron strip on the leading edge that will help the area to suffer less against crashes. We could also appreciate a thinner leading edge that makes it a bit faster, although we belive the improvement is imperceptible to most users..




Kite in the air feels like its predecessor. As we have said before, we tested the 2016 Vegas 7m and 10m and if compare them directly with their predecessors, the feeling and behavior are the same. We could find a bit better pop with the new 2016 Vegas and the kite in the air seems a little more compact, but under our point of view, is pretty much the same kite.
The new North Vegas 2016 is the ideal choice if you are pulling already unhooked tricks and want to move to the next level. With a proper setup, you will find a very comfortable kite which you can have fun in any wind condition. But where this kite really stands out is as New School / Wakestyle kite. Choose the proper configuration and you will find which is possibly the best kite for unhooked tricks in the market..