Complete guide for your kitesurf trip to Tarifa made by kiters to kiters.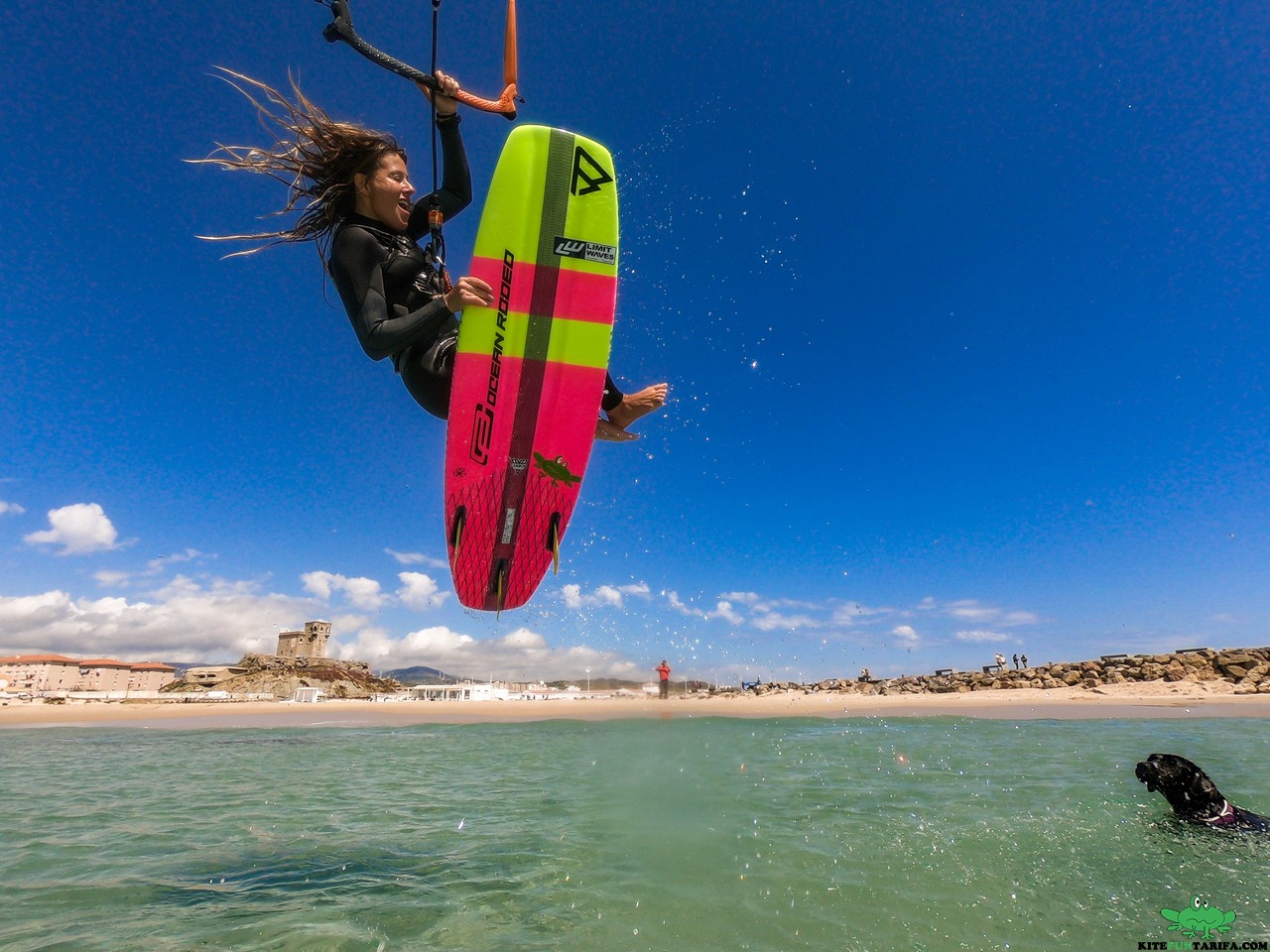 Do you come to Tarifa for the first time to do kitesurfing and do not know how to start organizing your trip? We have made a brief summary of what to expect from your trip to Tarifa, different options to arrive, such as where to stay, winds for kitesurfing and different spots. So let's start with the most important part of our guide to do kitesurfing in Tarifa.
How to reach Tarifa?
Tarifa is good connected with several airports to no more than a couple of hours driving distance.
The nearest airport is Gibraltar, about 45 km away. Jerez Airport is only 128 km away. These 2 airports has probably the worst connections if you do not rent a car, but if it fits you, by distance are the closest ones to Tarifa.
The nearest major airports are Malaga at 154 km and Seville at 200 km.
If you have the possibility, we recommend renting a car. Tarifa has a lot to offer in its surroundings that you will miss without it! If you come to do kitesurfing, depending on the wind you will probably have to move around different spots so renting a car is a great idea.
If you do not come with your car or you can not rent it, from any airport (or its city), you will have bus connections to Tarifa and if there is no direct line, you can always go to Algeciras and from there you can take another one to Tarifa (Just 15 min away).
Another option is taxi or blablacar.
Accommodation at Tarifa.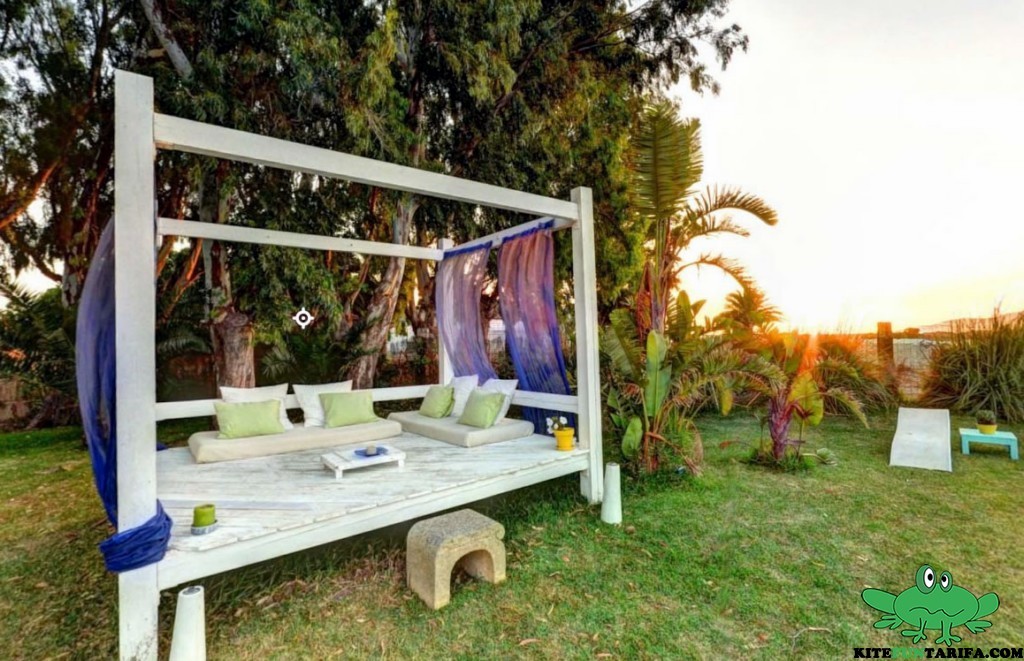 In Tarifa you will find a thousand and one accommodations. If you come during the summer, downtown accommodations could get noisy at night! If you dont come for party, avoid this ones!
If you come to do kitesurfing, and it is not during the summer months, you can kitesurf directly in Tarifa and any accommodation near the beach will be very comfortable if there is west winds. In summer season you can not do kitesurfing directly in town, so you will need to go to the kitesurf area.
There are campsites on the outskirts of Tarifa, most by the sea. Beware of camping with motorhomes because it is not allowed in most parts of Tarifa.
Food.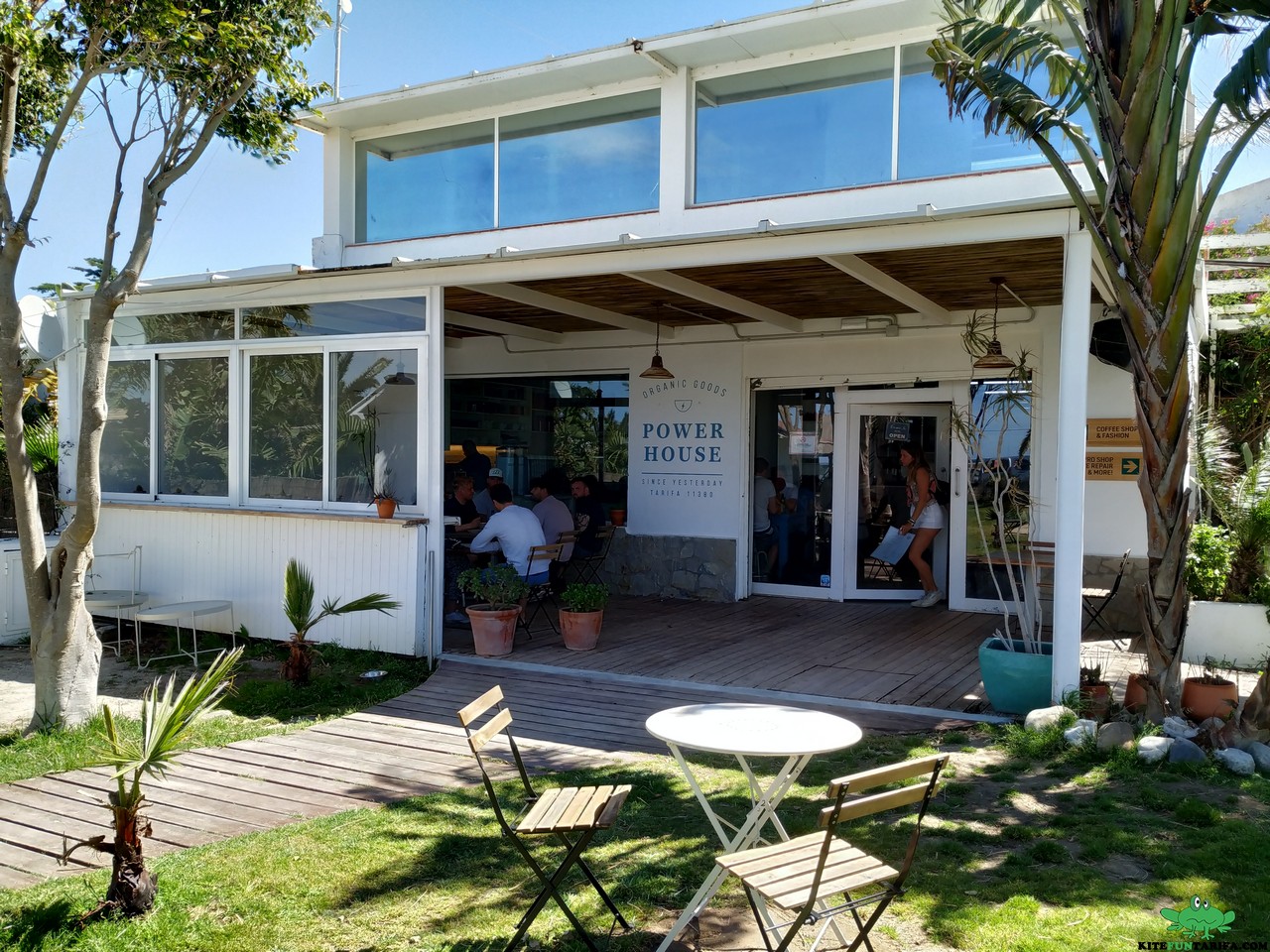 Undoubtedly, Tarifa has a wide offer to go out for lunch and dinner.
For breakfasts and lunches, our favourite spot is the Power House. From kiters to kiters, healthy food and full of power to go kiting. It is located at the exit of Tarifa next to the Duotone Pro Center.
For dinner you have dozens of good places to eat tapas or anything you want.
Kitesurf in Tarifa.

If you come to Tarifa it is because you already know that there is wind (almost) every day and it is the ideal place to learn how to kitesurf or hit some good sessions.

Learn how to kitesurf in Tarifa is a guarantee that you can do your kitesurf course without breaks between or stopping several days or weeks because of a lack of wind. Also you will find probably the best instructors in the world. The number of students that pass through the hands of any instructor in a season in Tarifa is comparable to what an instructor can do in several years in any other place. Tarifa is a worldwide reference of quality / experience in its kitesurfing courses.

Kite Fun Tarifa offers private kite courses (1 to 1), in group (maximum 4 persons and 2 kites), small groups (2 persons and one kite) and semi-private (2 persons with 2 kites).
Our location in the school area is ideal as there are usually few kites and you can learn in a relaxed way without stress of having kites / people around you even in the peak months.
We have great professionals teaching, including Carla Herrera, kitesurf vice-world champion!
If you are looking for a kitesurf course in Tarifa with the best conditions, contact us here .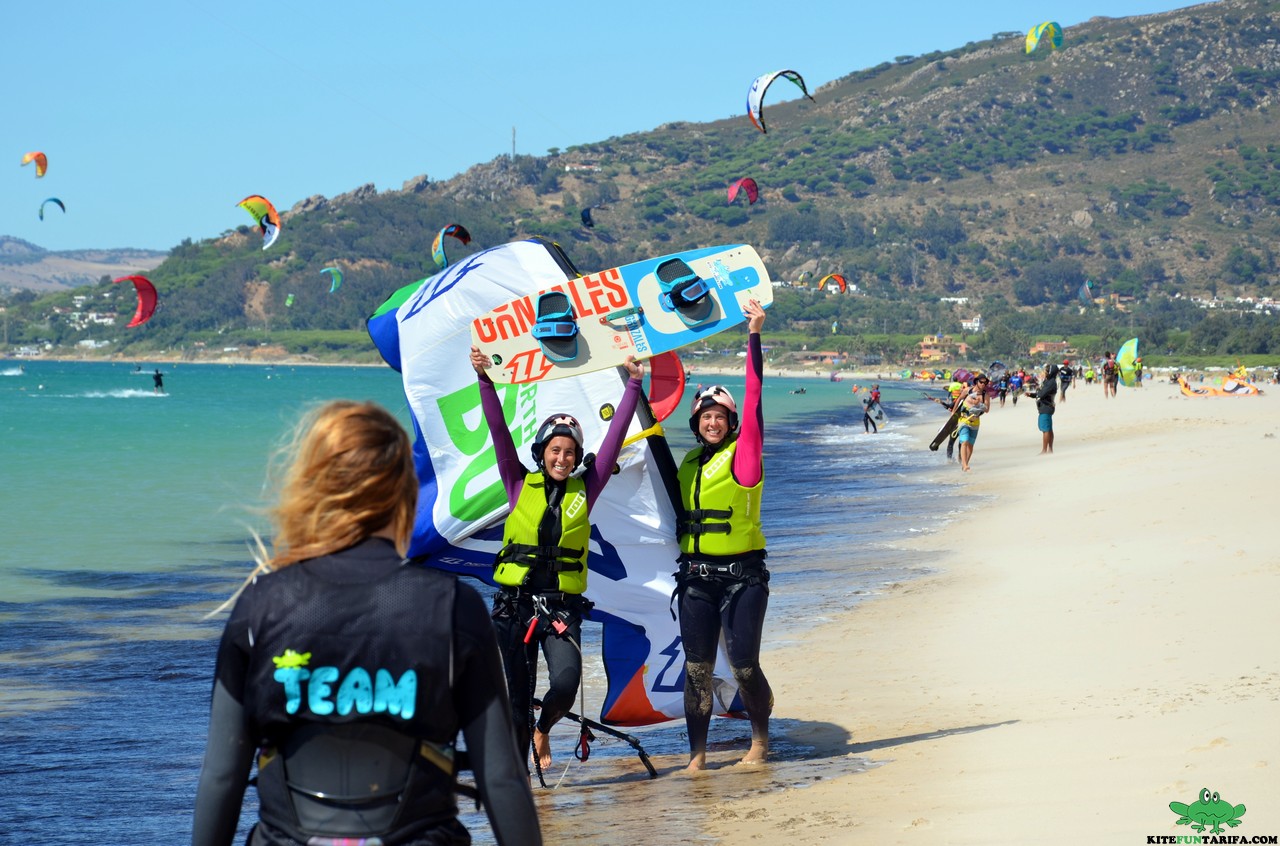 If you are one of those who already know how to kitesurf and come to Tarifa for the first time, there are some things you should know.

First, we predominantly have 2 different winds:

Poniente. Is west wind, generally side-on although in the mornings (and some days) it can be totally on-shore. The wind usually begins to work from midday and is usually for big kite size, such as 10-13m.
If you look at windguru, normally with a forecast of about 9kn it will be enough to kitesurf, so dont get crazy if you see that wind forecast! Even with less wind forecasts, if it is sunny, there will surely be a time with enough wind to have a good session.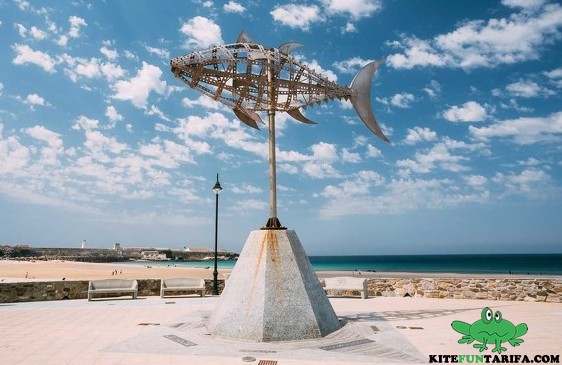 Levante. Is east wind, usually side-offshore although there are some days that it may be side. This wind usually works 24 hours a day and is usually a strong wind and medium / small kites are needed.
If you look at windguru, you always have to add knots to the forecast. With a forecast of about 7kn you can easily find yourself with 15kn.
With 20kn forecast we can talk about 35+ kn!
If you do not like these conditions there are many spots that you can go around Tarifa to find less wind!
Kitesurf Spots in Tarifa.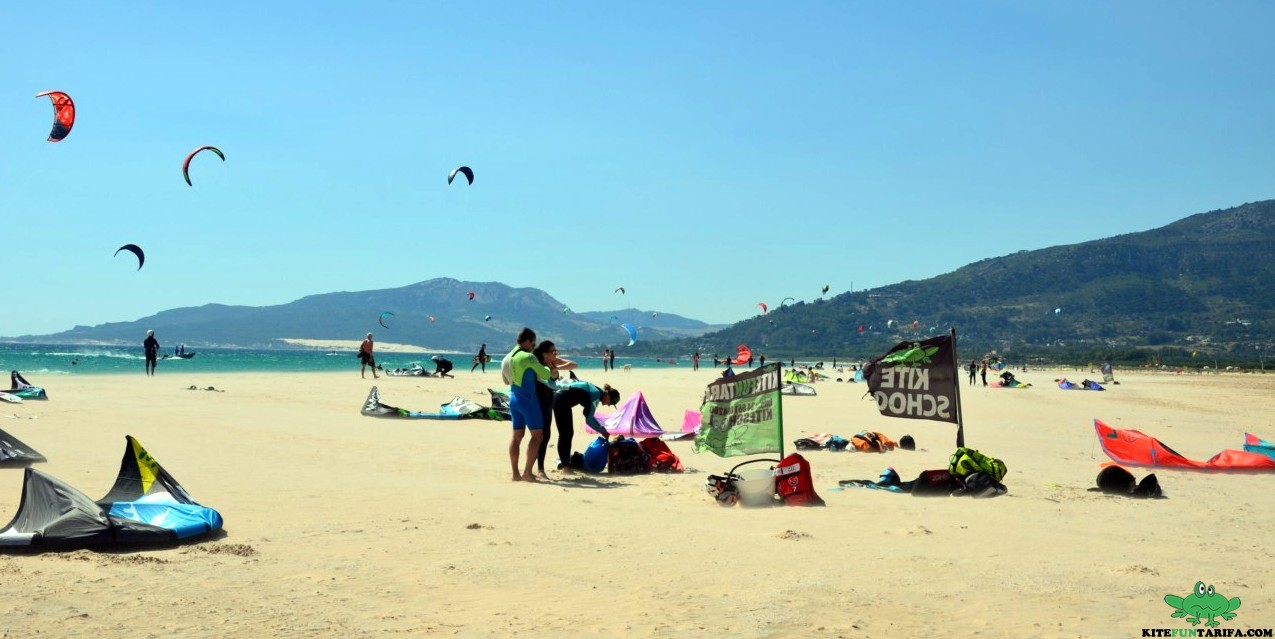 Los lances.
The SPOT in Tarifa. Out of summer season (which is from 15.6-15.9) you can ride anywhere on this beach.
During summer season the areas are bounded and you will have to go to the kite area that is on the outskirts of Tarifa. It works both with west and east, but remember that with east in town wind is covered by the buildings..
If you kite with east winds you will need a rescue card in case you have problems as wind is off-shore!

Special mention to the famous Tarifa Lagoon, which only works with high tides but... remember that it is totally forbidden to do kitesurf inside!
Los Lances is a suitable spot for all levels, you can find more info about Los Lances kitesurf spot here.


Valdevaqueros.
Spot that works with both west and east winds. It is a good choice for levante because if you have problems you will end up in the sand dune. Days of poor poniente forecast is highly recommended thanks to the thermal effect.
In summer it is usually quite crowded, so dont lose your patience!
Suitable for all levels, you can find more info about Valdevaqueros kitesurf spot here.


Balneario.
Spot that works with east and west winds. This is a locals spot with levante, so if you see that there are some kites, wait for them to come out as it is a small spot.
Only suitable for very advanced riders as there is no rescue service and the wind and current of the sea make it a very dangerous spot.
You can find more info about Balneario kitesurf spot here.
Spots in the surroundings of Tarifa.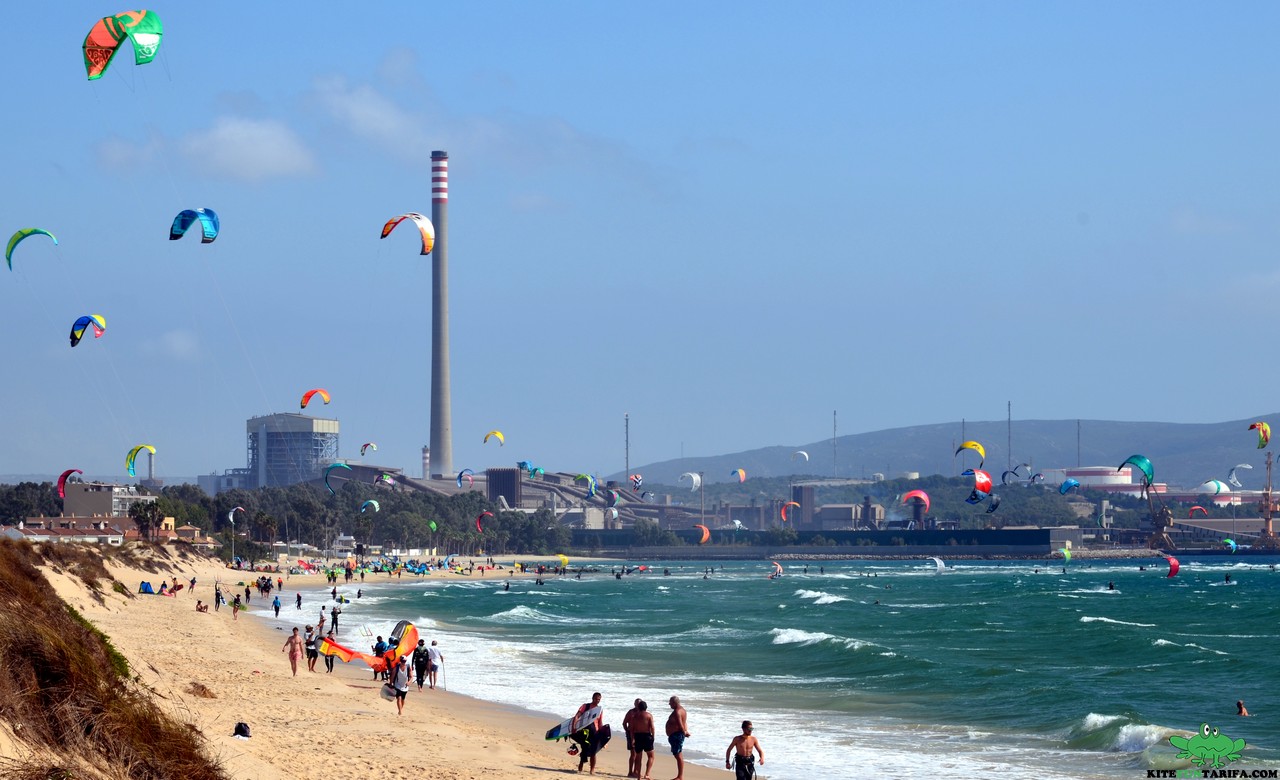 Caños de Meca.
Is about 45min from Tarifa towards Cádiz. It is a good option if Tarifa starts to get too strong. Normally you find about 10kn less than in Tarifa and with levante you can find fun waves. Depends on the conditions, it can be a suitable spot for all levels, but you have to be careful.
You can find more info about Canos de Meca kitesurf spot here.


Getares.
Is about 15min from Tarifa towards Algeciras. Prohibited during summer season, rest of the year is a good option if Tarifa is very windy or you want to surf waves. It is usually an easy spot depending on the conditions.
You can find more info about Getares kitesurf spot here.


Palmones.
About 30min from Tarifa towards Algeciras. It is the usual spot for all schools when there is too much wind in Tarifa, so it is usually quite full during summer season those days that Tarifa is very strong.
You can find more info about Palmones kitesurf spot here.

Here you can find a compilation of spots for kitesurf in Tarifa and surroundings.
Activities to do when there is no wind in Tarifa.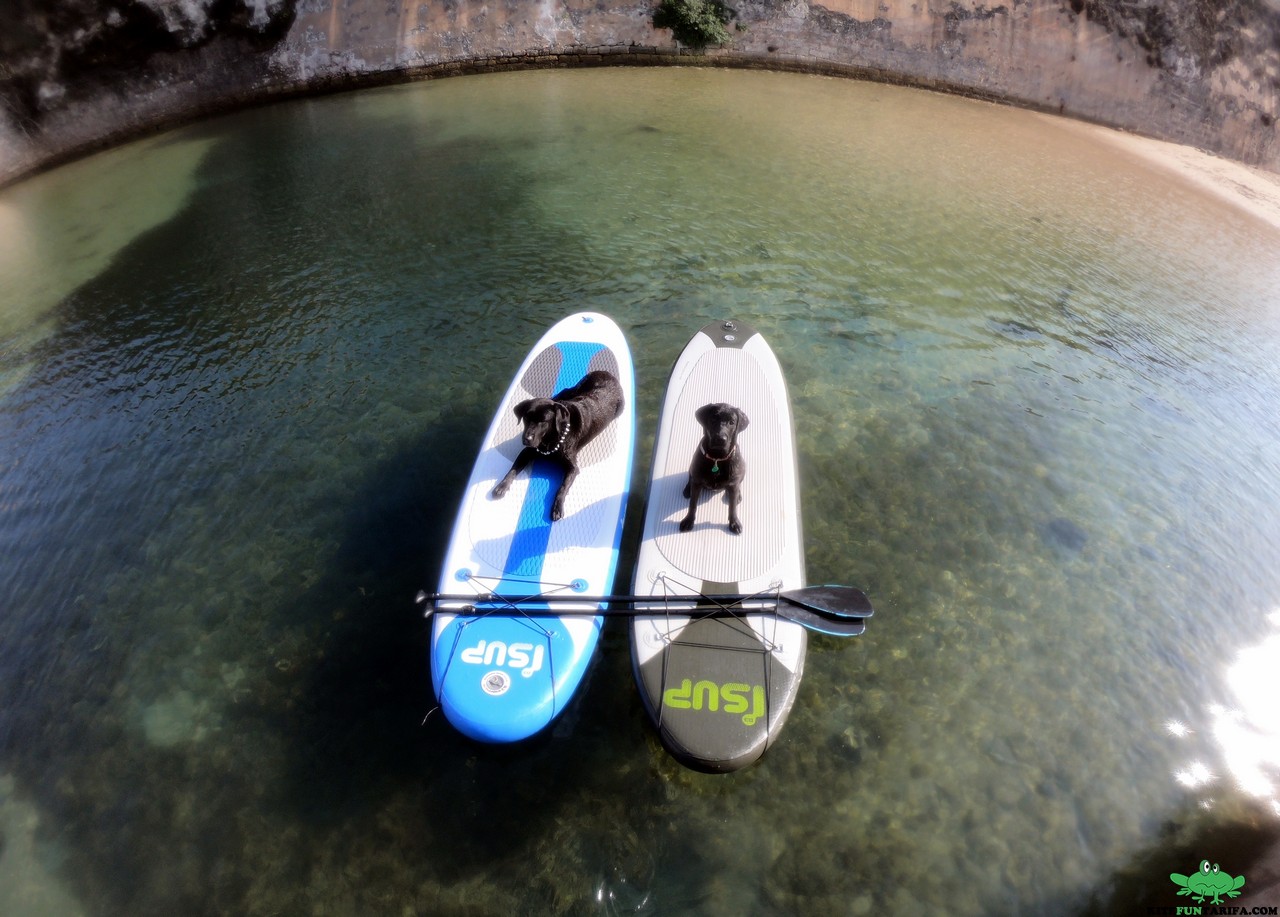 Tarifa not only lives from kitesurfing, it also has offer of other water sports as well as off the water!
Stand up Paddle.
For this day without wind, an activity that you can not miss is doing a stand up paddle course or just rent some boards and go around Balneario area and see Tarifa from another point of view.
Surf.
When conditions are present, Tarifa has good waves to learn to surf or improve your skills. Doing a surf course in Tarifa is a good option to have your first contact or improve your surfing!
Out of the water
As you can not spend all day in the water, Tarifa also has other activities to keep you busy out of the water. There are bike routes (also on electric bikes!), Horse riding, climbing and the classic outing to see whales and dolphins!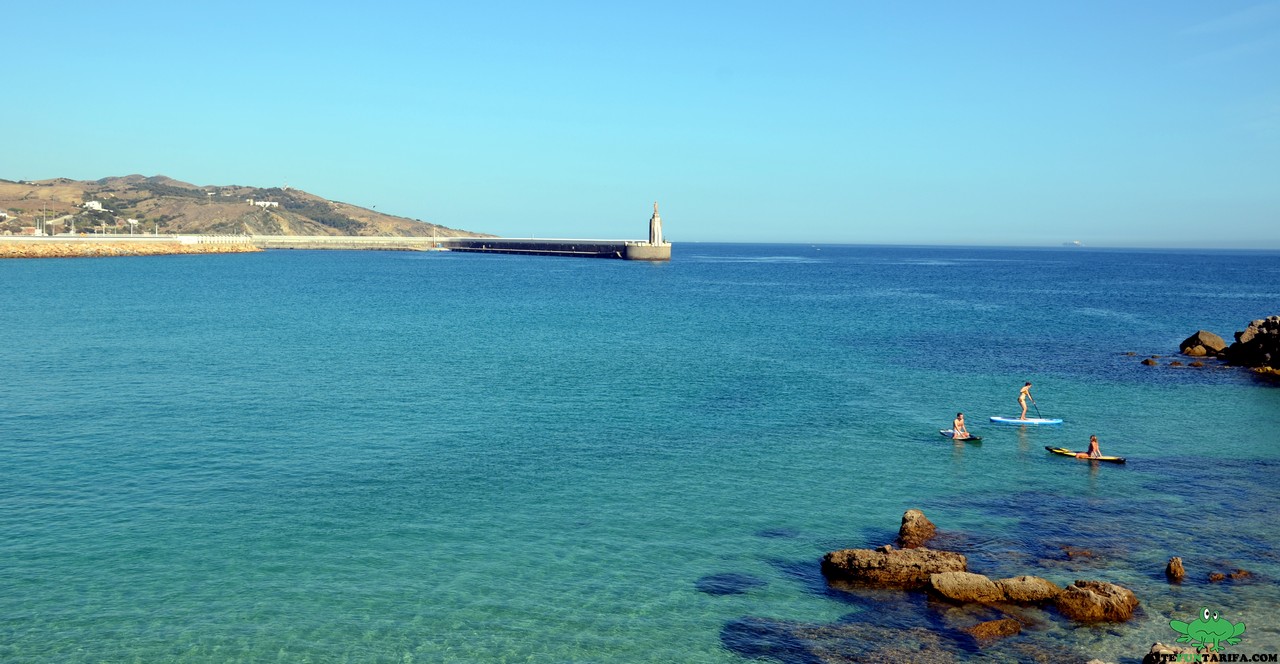 If you had doubts about whether to come to Tarifa, we hope to have resolved them! Tarifa is considered one of the best places to practice kitesurfing in the world, and it is a place that you have to go at least once in your life if you are a kitesurfer!

Welcome to Tarifa, the wind mecca!