North is rebranding to Duotone
Some details that you may not know about the new Duotone brand
For few months, a rumor has been on and ... Yes, it's true. North Kiteboarding changes its name to Duotone. Surely you have already heard something, or not. Maybe there are some parts of the story that you do not know, so let's start by presenting the actors of all this story.
The first part is Boards & More, which is the mother company, also owner of ION, Fanatic and others. In the early 2000s, when Boards and More wanted to enter the world of kitesurfing, they agreed with North Sails America on the use and rights of North Kiteboarding brand and began producing kites under this name ... and the rest is history.

Due to some disagreements about how to look to the future, Boards and More has decided to recover one of its old brands, Duotone, to continue producing its kitesurfing material and even, in the near future, expand to other markets such as surf, foil-surf and others.
Now let's move on to some more specific questions ..


What about those who bought a North kite recently?
Nothing, the same warranty and spare parts will remain.
How are new kites going to be?
Starting with the names, they will remain the same. That is, North Vegas is now called Duotone Vegas. The design team, factory and others will remain the same, so the effect of all this in the end, will be simply a change of name. The product will be the same offered by them!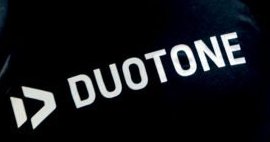 Are same team riders and technical team?
Yes, all international riders are still with them and also designers and shapers.
When do the new Duotones come to sale?
On August 1. The new Duotone Vegas, Duotone Neo, Duotone Rebel and Duotone Dice will come out at once in August, as well as twintips and kite surfboards. The remaining models will be released in February.
And the last and not the least, does this affect the consumer and resale in second hand?
On the first part, surely not. We will continue to enjoy the same products that we are used to and the only difference will be that instead of wearing a North logo, now it will be Duotone.

About the second-hand market, it is difficult to predict. It seems that Boards and More have controlled production a lot this year so that there is not much material available at the end of the season, so there will not be many discounts and it is supposed to keep the prices high.
In my opinion , will depend a lot on the marketing campaign they do to inform the consumer about the new changes.
Via: IKSURFMAG