COVID19 Info
✅Book with confidence, 100% money back guarantee.
✅Adapted protocol.
+ Info
Kite School in Tarifa | Kitesurf courses in Tarifa
Are you looking for a kitesurf course in Tarifa?
Welcome to Kite Fun Tarifa
The main objective of Kite Fun Tarifa is to offer you more than 10 years of experience in the kitesurf business and the same levels of satisfaction as thousands of other students! We offer quality: quality of treatment; quality of kitesurf courses; quality of equipment, as well as excellent organization and a guarantee that you will get the best overall experience from your kitesurf course!
Find out why we are the most valued kite school in Tarifa, Spain!
Why choose Kite Fun Tarifa among all other kite schools in Tarifa?
The most important thing for Kite Fun Tarifa is you, which means that we customize each kite course to you, in order to provide courses for all learning abilities and all levels. We always use the latest learning techniques as well as high-quality Duotone equipment which will guarantee your safety and provide you with a unique experience when learning to kitesurf.
Want to learn kitesurf with a World Champion?
Carla Herrera was the 2019 GKA Kitesurf World Champion and is also our main instructor at Kiteschool Kite Fun Tarifa. If she is not competing around the world, then she is teaching kitesurfing here in Tarifa. Could it get any better? Take your kitesurf course in Tarifa with a World Champion!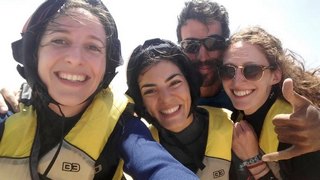 Kitesurf courses in Tarifa for beginners. We adapt to your level, if you start from zero or if you already have had some experience before. You can choose to make your kitesurf courses on group, semiprivate or private.
+ info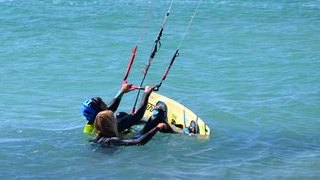 Want to learn kitesurf in the most effective and fastest way? A private kitesurf course in Tarifa is your best choice. We will adapt to your level and learning speed to improve your kitesurfing as fast as you can and with the best prices!
+ info
Already have tried kitesurf before? You can kite but want to learn some new aspects? With our adavanced kitesurf courses in Tarifa you can learn everything you want, from upwind to old-school, freestyle, waves...
+ info
We offer kitesurf courses in Tarifa adapted to children. We have special equipment for kids and also an oriented children metodology. Do you want that your little one starts kitesurf in the safest way? Our courses are the answer.
+ info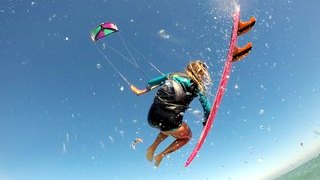 In our team we have the 2019 Kitesurf Strapless World Champion and.. Who else could be better to learn strapless kitesurf with? If you are already bored of your twintip, let Carla introduce you to kitesurf strapless in no-time!
+ info
Besides a kitesurf course in Tarifa you also look for accommodation? We have a Surf-House directly in Tarifa town-center and 3 minutes walking distance from the beach. All our guest are kiters or future kiters!
+ info
Kite Fun Tarifa kiteschool offers kitesurfing courses for all levelsin Tarifa, from beginners kite courses to advanced kitesurfing lessons in which you can learn everything you want. You can choose if you either want to learn/improve kitesurfing in a group, or if you would rather prefer to have a private kitesurf course to maximize your time. You can customize your course depending on your level,previous experience and the amount of time you have available in Tarifa.
Are you coming for holidays to Conil and wanting to take a kitesurf course? Also, if you spend your holidays at Barbate, Zahora, Chiclana.. your best choice for learning to kitesurf is Tarifa!
One big difference between Kite Fun Tarifa and other schools is us -the owners-, those who go down to the beach with you to give your kitecourse and share our passion with you! And if it is not us personally, our instructors are all professionally engaged in teaching kitesurfing and are all certified by the IKO / BKSA as instructors. In addition, every staff member speaks several different languages!
You will come as a customer and you will leave as a friend!

Kite Fun Tarifa offers a wide variety of other courses and kitesurf rentals in Tarifa besides our kite packs with accommodation. From our Kite Centre we offer kitesurf, surf lessons and SUP rentals plus all the equipment you could need for a truly memorable holiday in Tarifa. All our courses come with equipment included, plus all the necessary health and safety insurance, and, if at the end you want an IKO certification, you just have to ask!
Find us: Carretera Nacional km 82.2, next to Cepsa gas station. Tarifa, Cádiz, Spain.
Is Tarifa a good place to learn kitesurf?
Undoubtedly, it is the best spot in Europe. Tarifa is often called the European wind capital!
Tarifa offers over 300 days of wind per year, plus an average air temperature of 20 degrees Celsius throughout the year and very wide beaches!

Even during busy days and peak season we guarantee that you will be taught in a space far away from the crowds! Our kite school is located directly at the beginning of the teaching area. In less than a 10min walk you will be in a quieter area where you will feel safe without being surrounded by hundreds of kites … and it almost goes without saying but that's also where the wind blows best!
Ready for your kitesurf course in Tarifa?
Then choose your course, contact us and get ready to fall in love with kitesurfing. Welcome to Kite Fun Tarifa!