Travel to Dakhla by road to kitesurf
Experiences and advices of our kitesurf roadtrip to Dakhla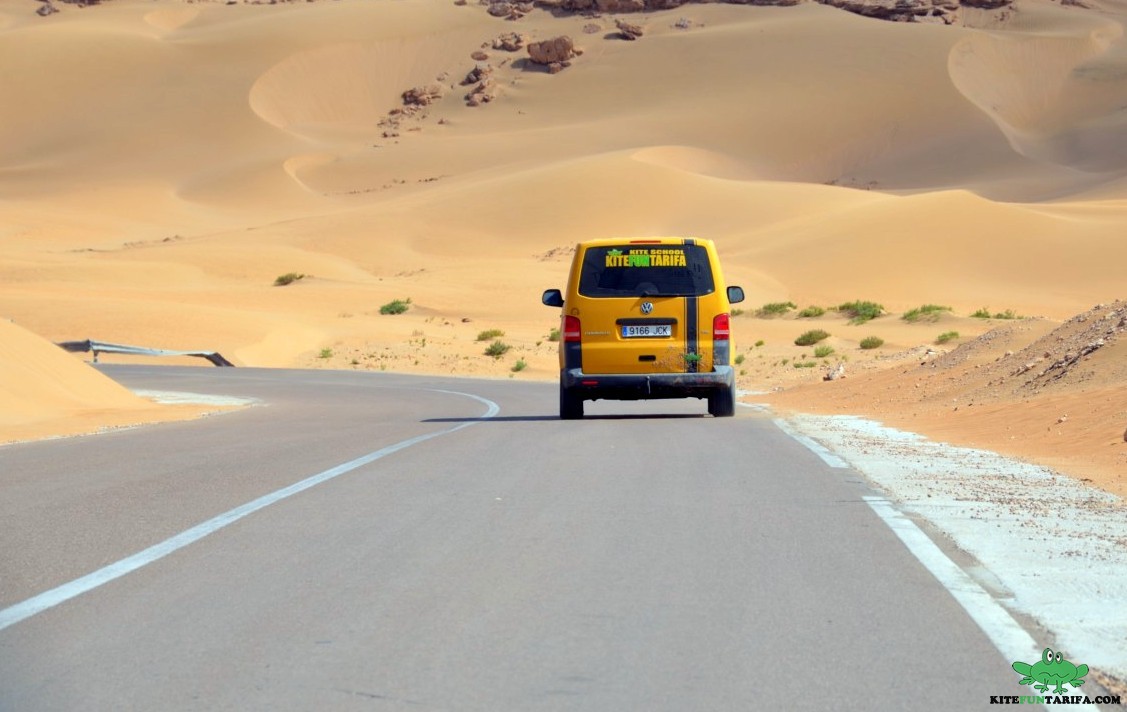 Roadtrip to Dakhla
After 2 road trips to Dakhla for kitesurfing, we are ready to give you a few tips and clear those doubts that assail us all before crossing the desert with our car! In this post we will try to guide you on itineraries, costs and tricks to make your trip and stay in Dakhla as simple and "foreseeable" as possible.
The first part of the trip is to choose which port you want to use to cross to Morocco. You have 2 possibilities, from Algeciras to Tanger Med or from Tarifa to Tangier City. Prices for 2 people and car are practically the same, around 240 €. Having used both ports, we recommend Tanger Med, as it directly go out to the highway and the car formalities and customs are done much faster and with much less stress than in Tangier City.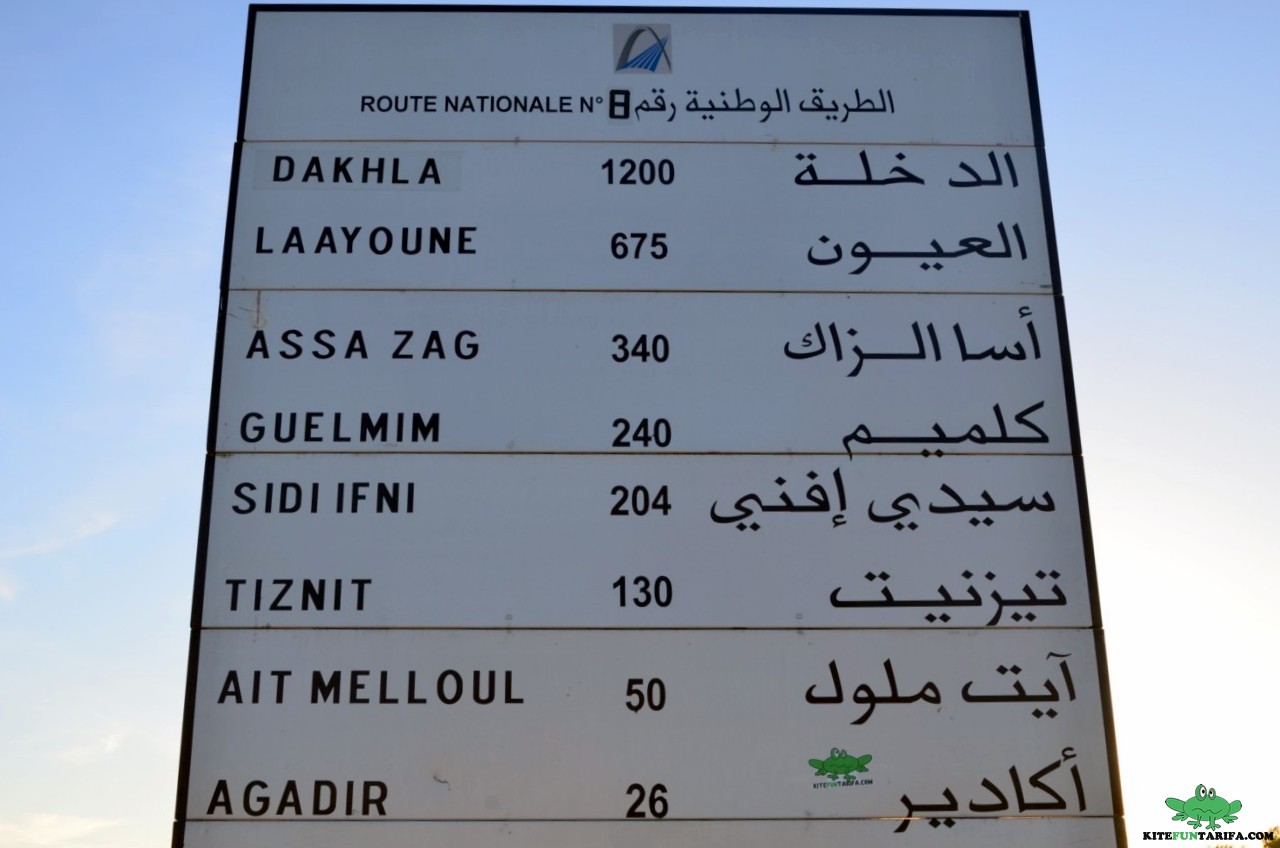 The papers needed to cross with your car: Passport(take about 10 photocopies as well), driving license, car documentation, ownership of the vehicle and green card from your insurance (call them few days before and ask for it, is free and you need it).
Once in the port of Morocco and after paperwork, you will get a white paper and it is essential that you keep it to deliver it back again in the harbor on the way back.
From Tangier to Agadir, everything is motorway (the total cost is less than 35 €) and there are gas stations with rest areas every 25-40km. If you go with caravan or van, you can sleep in them without any problem.
It is easy to get lost a bit through Casablanca or Rabat due to the road-works, but simply follow Marrakech direction and then Agadir. Once in Agadir, take the N-1 and you will arrive directly to Dakhla!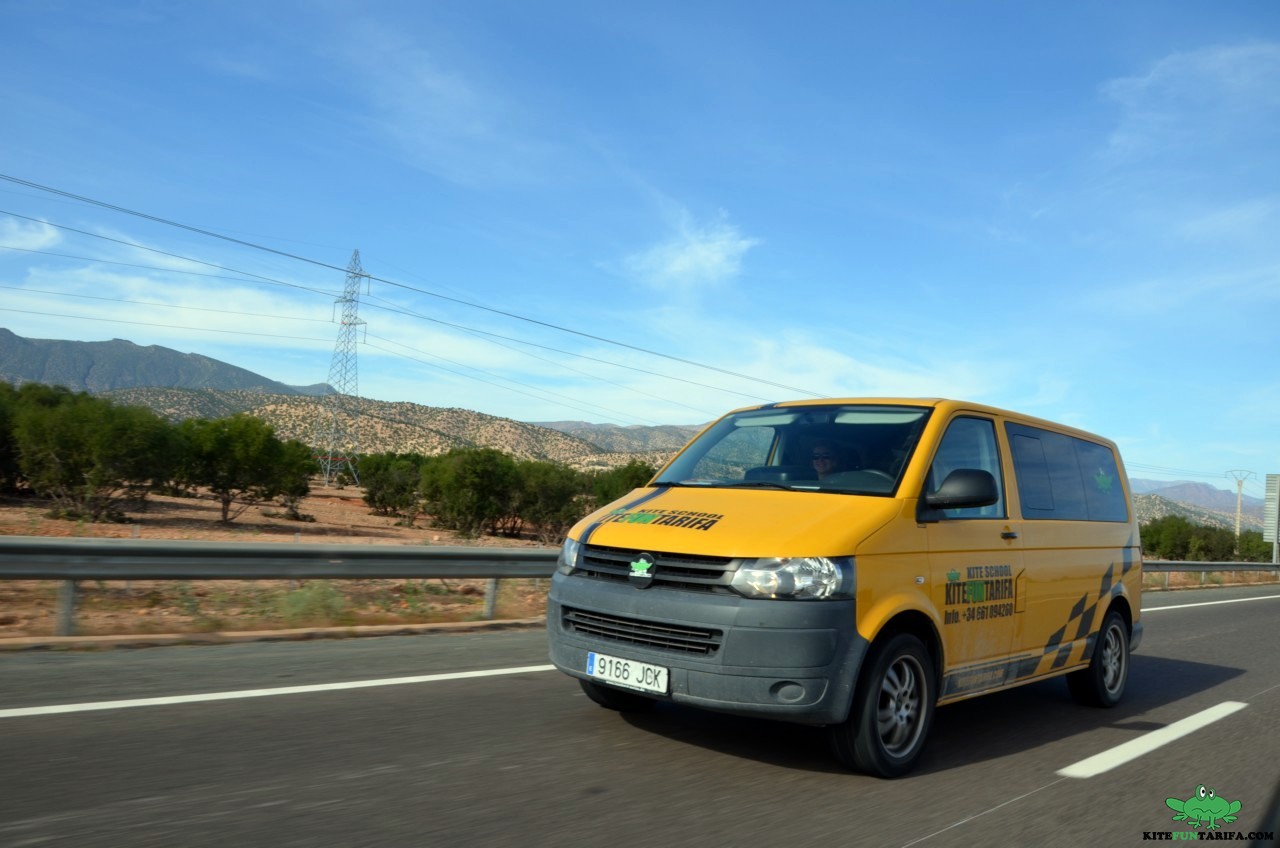 Normally the journey from Tangier to Dakhla takes about 2 to 3 days. If you go with van or motorhome, there are incredible sleeping places. If you want to go in one go, we recommend the route: Tangier-Marrakech where you can sleep at gas stations on the highway or we recommend the Ourika camping, very convenient, economical and very good service, in addition to being in front of the cablepark of Marrakech (more info later).
The next day would be Marrakech-Akhfennir where just outside the village you find a camp next to the beach, totally safe and amazing views. No services, toilets or showers! If you still have energy, 60km south you will find a campsite at the entrance of Tarfaya, Camping Villa Bens, run by a couple of very nice Italians.
Tarfaya to Daklha can be done in one day! It is in this part where you will face the worst part of the road, but nothing to fear!
Tips to drive to Dakhla:
• Inside the highway never exceed the maximum speed as police radars are lurking. Once you're in the N-1, especially in the endless straights of the Sahara roads, you can go as fast as you want but remember that at the entry and exit of most towns there are always police and possibly with radars.

•Once you enter the desert, in every town you'll find checkpoints. You will only be asked for your passport and where you are going and where you come from. To expedite the entire process, we recommend you bring photocopies of passport and written in each: where you are going, vehicle plate and registration number assigned by Morocco (the number is stamped at the end of the passport).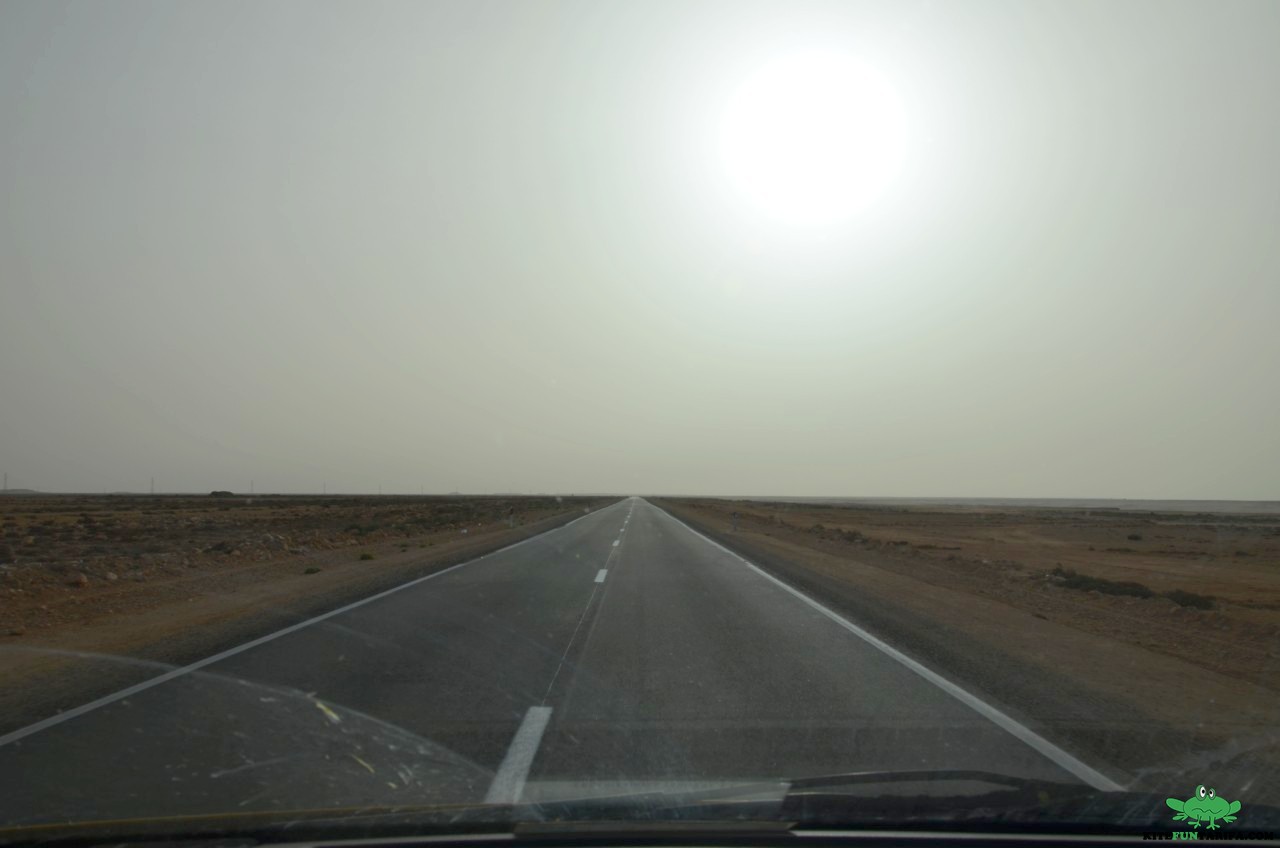 •The road condition is quite "good". The highway is on the level of Europeans and only from Agadir to Dakhla things get a bit complicated. Most of the road is a national road with one lane in each direction (in some sections is double lane in each direction) and most are in good condition. The worst part is between Boudjour and Dakhla, which has some holes and berms are in very bad condition .. Sometimes if you run into a truck in the opposite direction you have to be careful if you have to get out to the berm! We advise you not to drive at night.


Accommodation in Dakhla with your van or motorhome: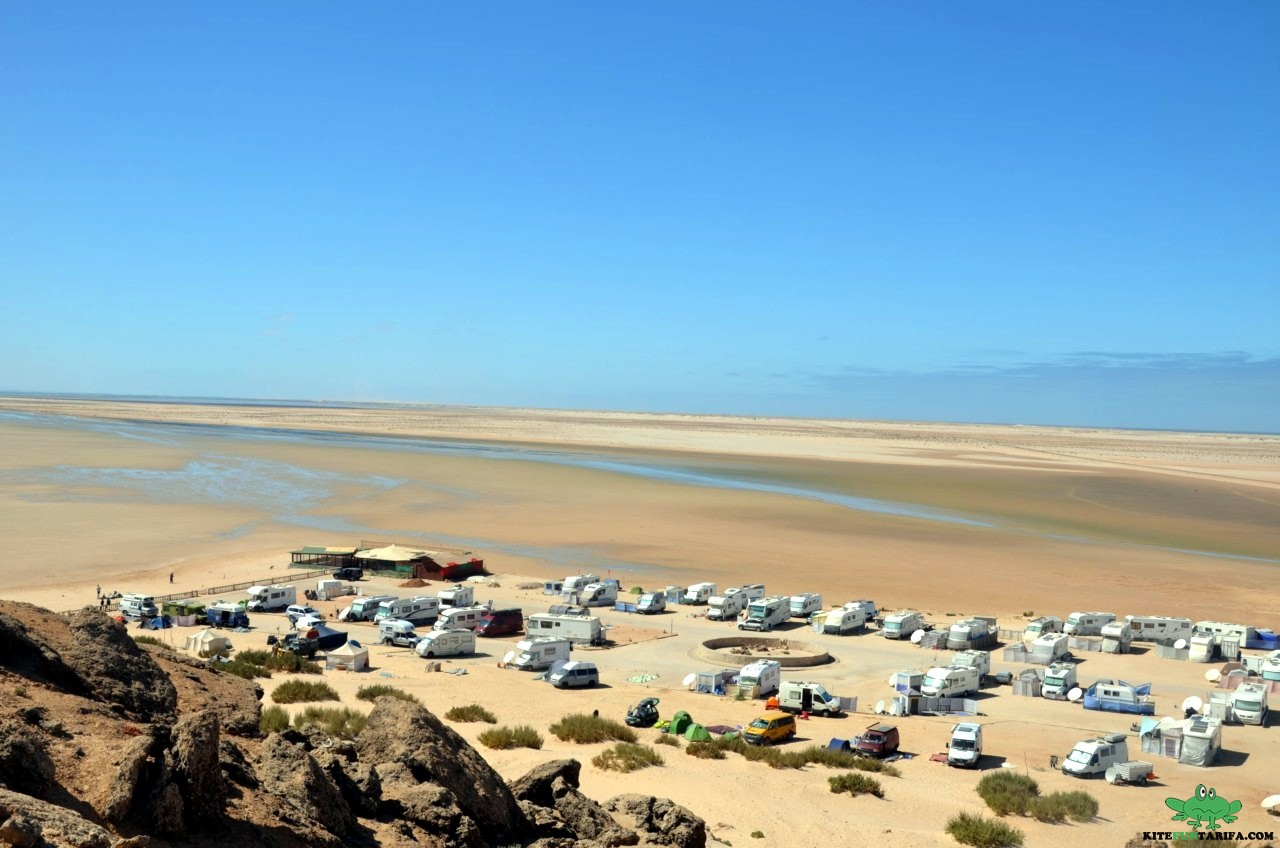 In Dakhla you will find the Km. 25 camp, where you can park your van or motor home (or even camp) for free. You have water (not to drink!!!) and is totally safe. You'll be steps away from the beach from where you can go kiting directly into the lagoon. This camp is located 25 km from Dakhla and have also hotels near the lagoon. No internet available, but you can buy a SimCard anywhere and get internet for a few euros. No electricity but plenty of sunshine =)
Life in Dakhla:
In Dakhla you will find almost anything you could need. In addition, if stay in the camp is not for you (or hotels around), you will find a couple of campsites at the entrance and many hotels and hostels between 15 and 20 € night in Dakhla city. The campsites are, one on the main road, just passing the checkpoint and another next to the Wave Spot (first roundabout to the right).
To buy food we recommend a small supermarket directly at the entrance and Dakhla market where you can buy almost everything.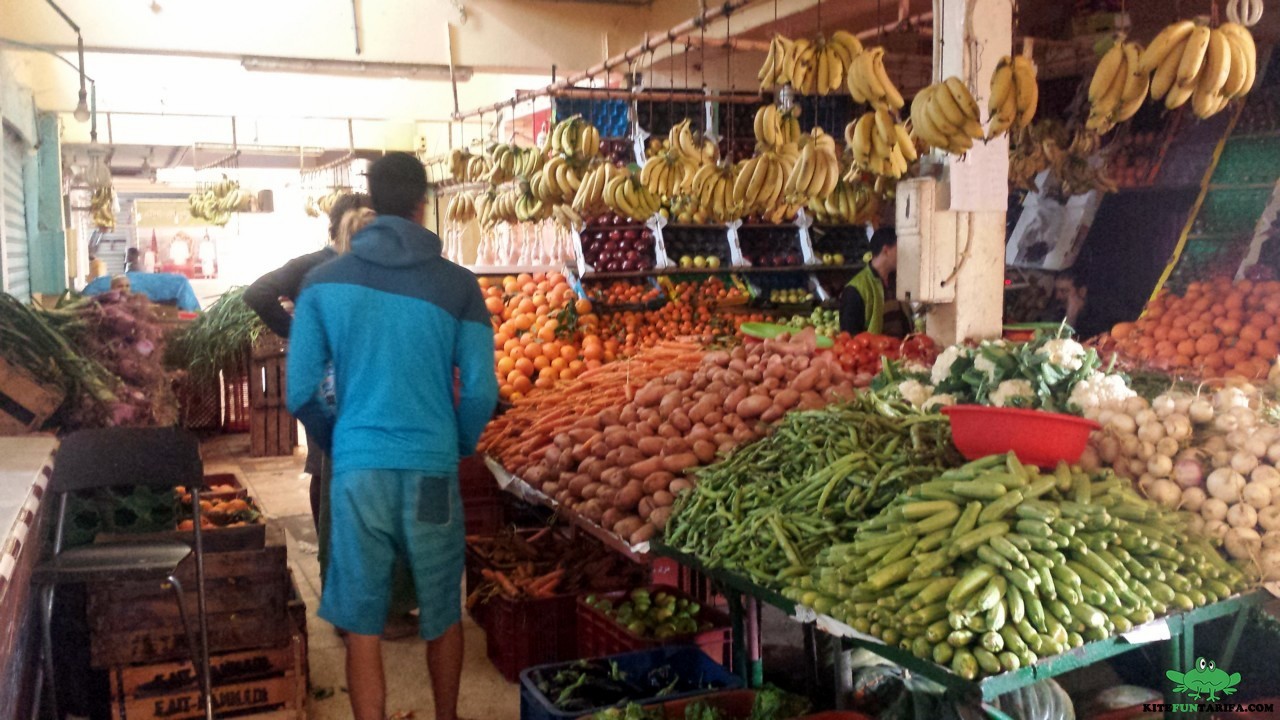 To withdraw or change money you wont have problems, all banks anywhere in Morocco makes it, including Dakhla. It also has a hospital and the service is pretty good and medical consultation is free.
Dakhla is completly safe, people are incredibly friendly and you wont have problems of any kind, even overnight. From our point of view, you will feel more unsafe in any other large city in Morocco than Dakhla.
Kitesurf in Dakhla:
In our 2 trips to Dakhla, we have been more than 60 days and we have had 100% windy days. It have been during January and especially February. There are different types of wind.
North, which is the prevailing wind there, usually starts more weak in the morning, for big kites and get stronger in the afternoon, probably for small kites..
There is also West winds, which usually blows in the afternoon and only for big kites.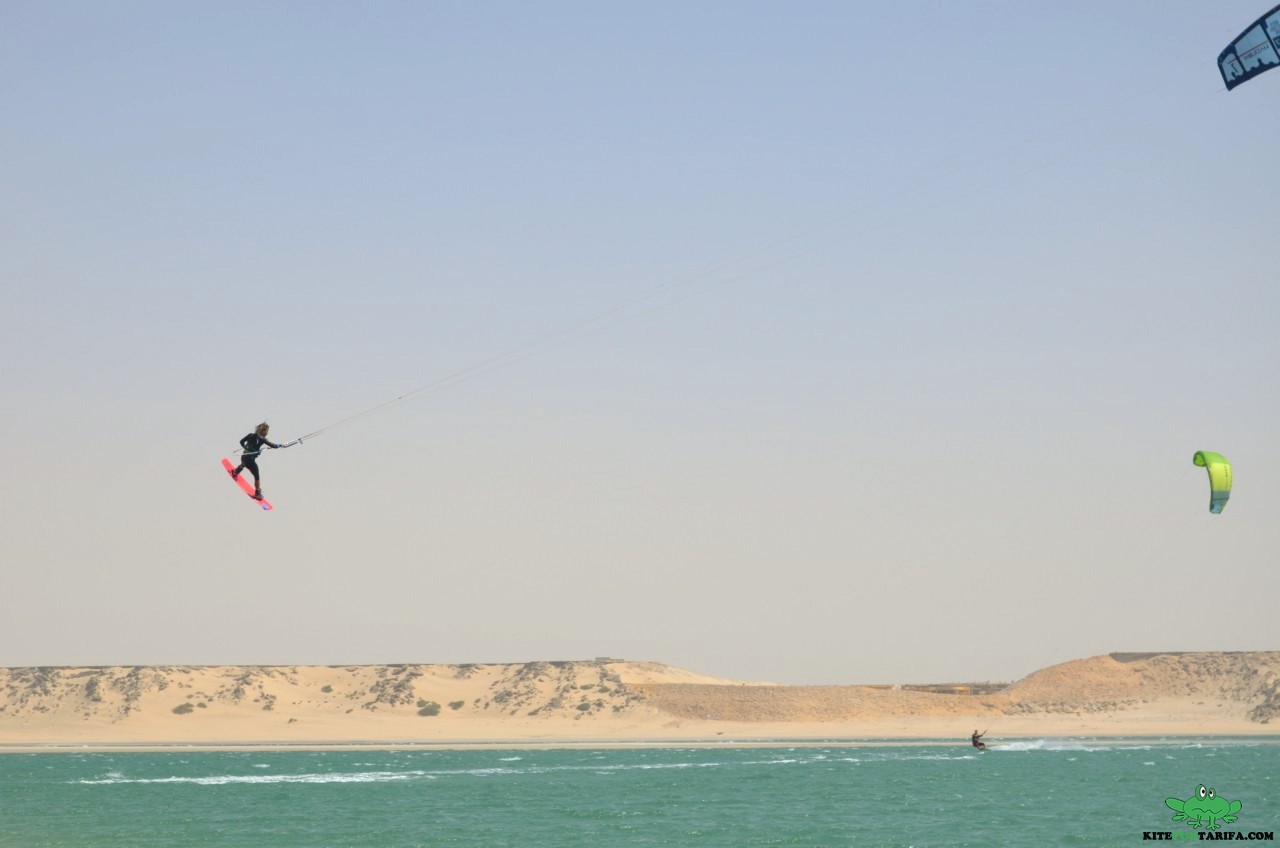 The wind in Dakhla also depends a little on the tide, there is always more wind if the tide is going up and less wind if tide is going down. The wind is very variable, so take all sizes you have .. In our case, we have always used 12m-10m-5m-7m.

If you need to repair your kite, there are some places where you can. At the entrance of Dakhla, next to the hotel Sahara Regency will find a small sewing shop where you repair 10cm for 10 dirhams! We also heard that there are places to repair at the hotels in the area.
Kitesurf Spots in Dakhla:
•The lagoon:
If you are at Km 25, you'll go directly to kitesurf at the lagoon. The wind in the middle is always stronger and a little more consistent. The only danger you have, if you're learning, are the shells on the ground and dolphins =) It is the perfect place to take a kite course or improve and learn new tricks.
•SpeedSpot:
The Speed Spot is the best kitesurfing spot in Dakhla, but also has its risks. It only works with low tide, as it is formed in a sand-bank. It is located opposite the hotel Dakhla Attitude.
If you go from the camp KM25, you have 2 options: You can make a downwind until the island and then an upwind when you pass the sand tip (may take more than 30 minutes), or, you can cross to Hotel Attitude and walk there while flying your kite (between 7-10min).
The wind is usually completely off-shore, so not recommended for beginners! And always expect 3-6 knots more than at km25.
•WaveSpot:
The Wave Spot is the ideal spot if you want to practice some surf-kite. The spot has its own Camp for free (plus a camping) where you can also spend the night without problems. The wind is usually side or side-off, usually gusty and the waves break usually very organized. The entrance to the Wave Spot is taking the right exit on the roundabout at the entrance to Dakhla.
•White Dune: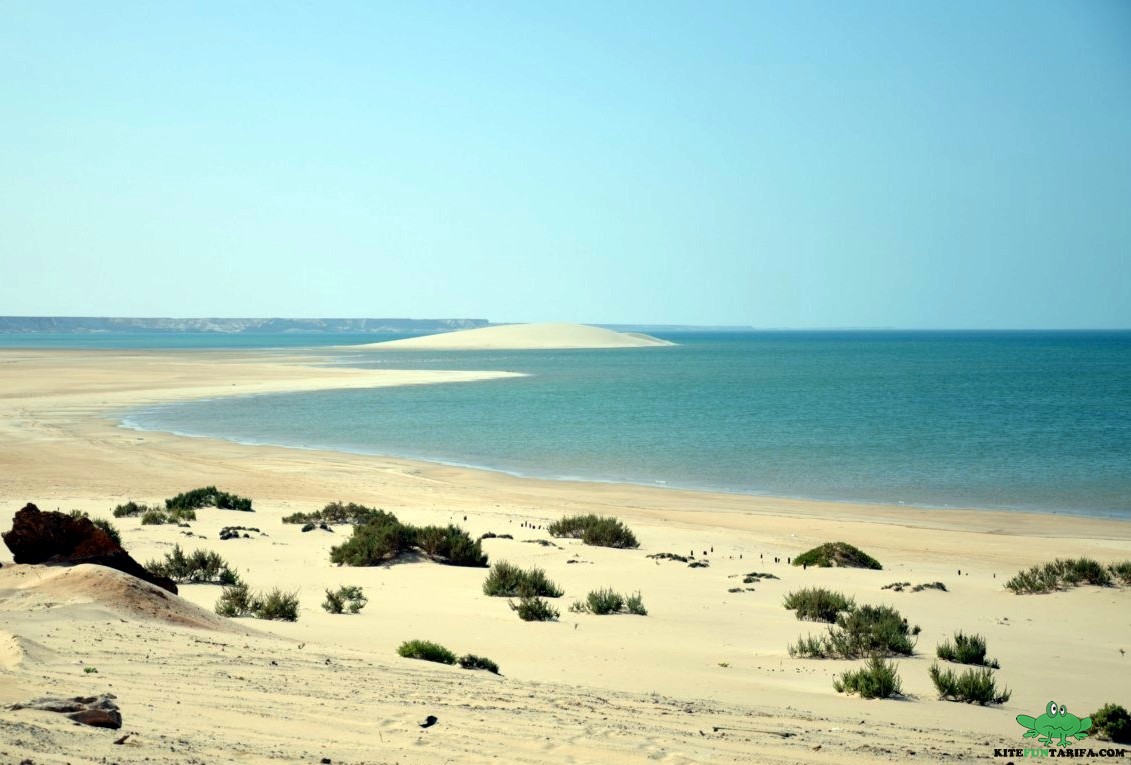 Probably one of the most beautiful spots in the world. You can make a downwind and upwind from the camp, but be patience and do not go alone! It can take between 2.5 and 4 hours for the whole trip (depending on the tides).
In our case, we went with the van .. We were told that it could only be reached by 4x4 but had no problems (we stopped 400m before and prepared kites there). Visit it is really a must if you're around Daklha! And if your level is good, jump from above !!
To get there you only have to drive in the opposite direction to Dakhla and when you pass the whole lagoon will see a exit marked as 4x4 route.
Things to do during your road travel to Dakhla: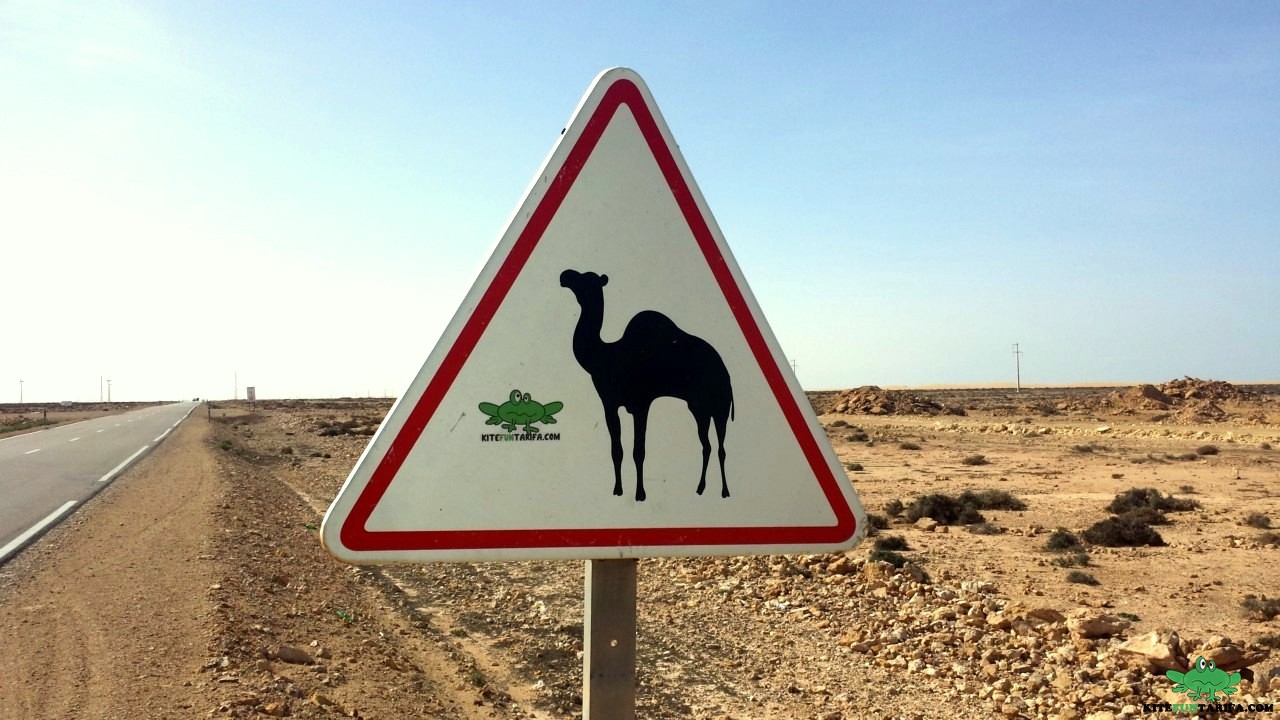 Kitesurf during your roadtrip to Dakhla:
There are many places to stop on the way if you have time .. You have Essaouira, Sidi Kauki.. but you have to drive a few hundred extra kilometers to reach them .. If you really want to go to deserted spots with amazing conditions without deviating too much, visit..: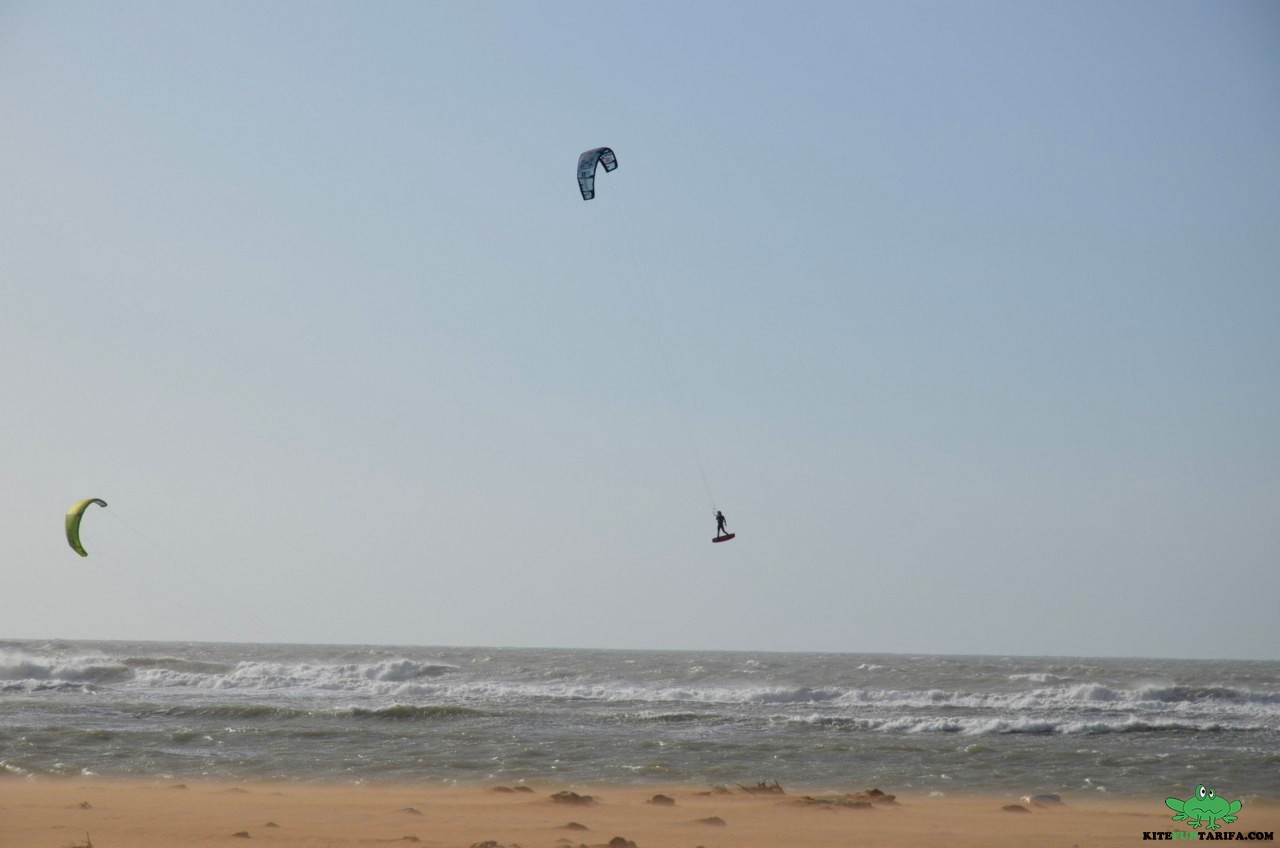 •Boujdour: Many waves and an incredible scene with abandoned boats on the beach. You will not find anyone kiting there... you won´t find anyone actually.. completely deserted but with very fun kiting conditions. The way to the beach is next to the south checkpoint of the city.
•National Park Khnifiss: Freshwater lagoon and noone in the water, but it seems that kitesurfing is prohibited. It has a small camp where you can also spend the night. The entrance is marked from the road as national park. If you get problems, you can always kitesurf a couple of kilometers north.
•Tamri: You have to detour several kilometers but the spot works for both freestyle and waves! Side or side-on winds, very fun waves on the beach and has a freshwater lagoon with enough space for several kiters .. A little paradise if you go with the right conditions!
Other things to do on your way to Dakhla
•Cable-Ski / Wakepark in Marrakech:




If you like Wakeboard, is a must to stop in Waky-Marrakech. The facilities and service are simply amazing. In Waky-Marrakech you will find a 5.0 system with transparent water, a breathtakingly friendly staff and all the services and amenities you expect. In addition, you have packages for more than 1 day and infront of it a campsite to sleep. Worth the experience! 100% recommended.
•Surf: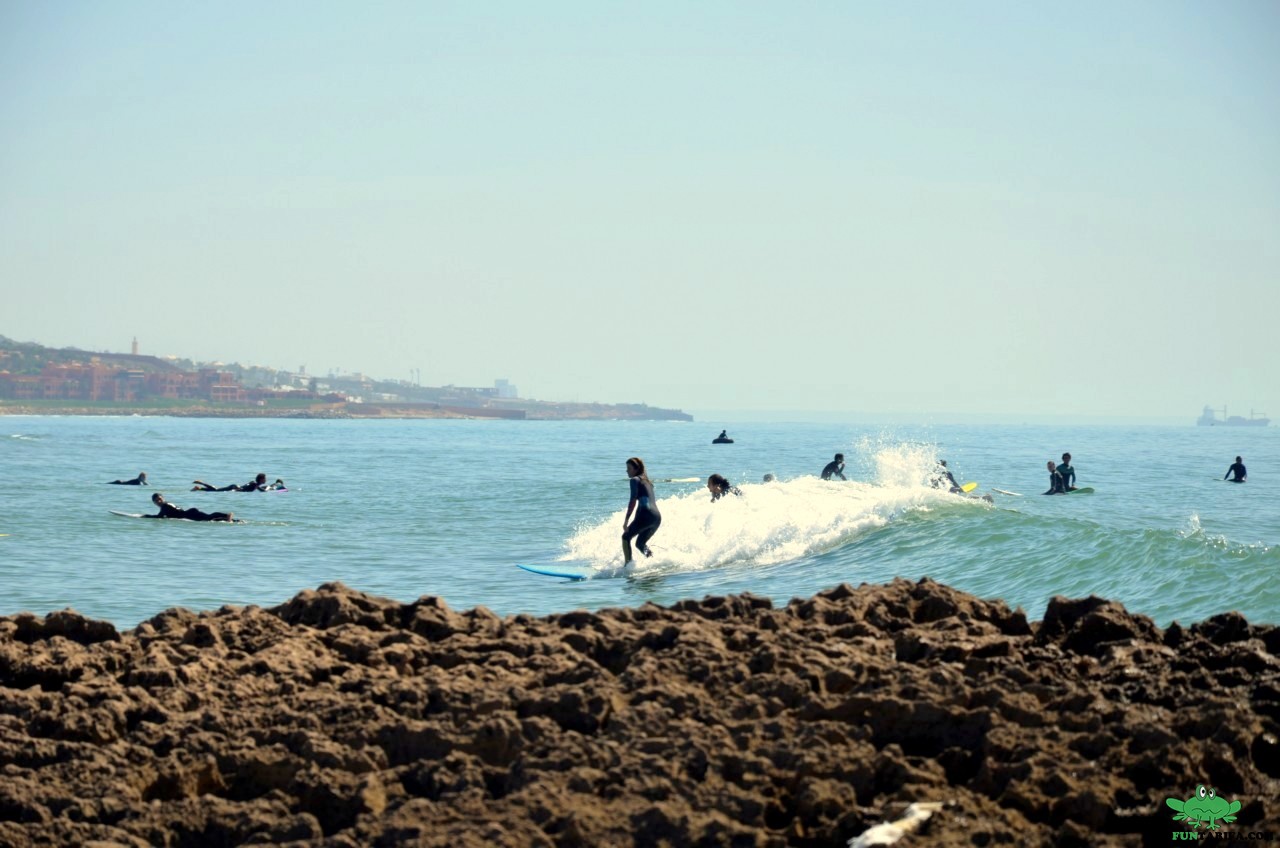 On the way to Dakhla you have several spots for surfing, both if your level is high as if you're learning. We recommend the spots of Sidi Ifni, Taghazout and Imsouane.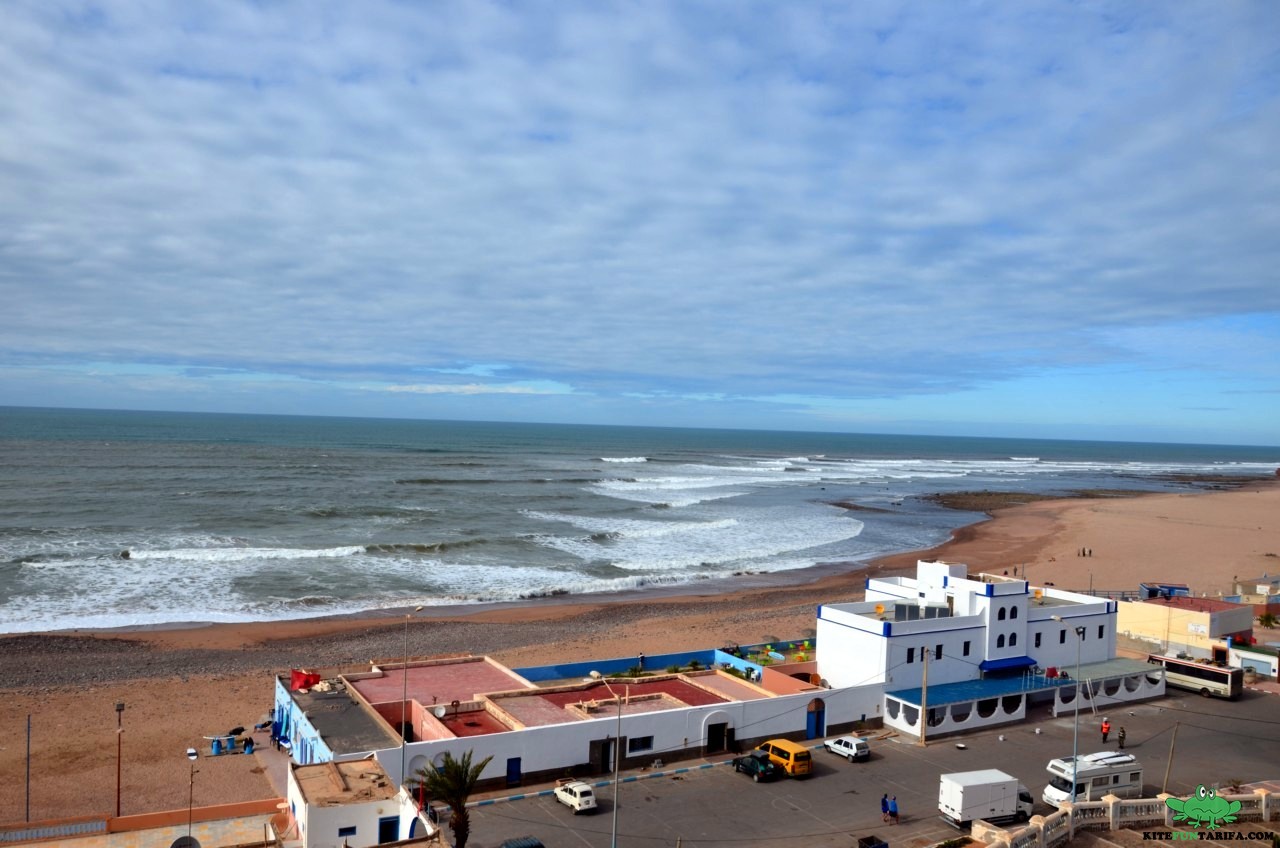 In Sidi Ifni you will find several campsites on the beach, a couple of places to rent equipment and surf lessons. Waves are a bit complicated (at least when we've been there). It also has a freshwater lagoon where kiteboarding if you are lucky with the wind (we had no luck in this spot). Close also you can visit the famous "Plaze of Sidi Ifni."
In Taghazout you will find a campsite on the beach, directly at the surf spot. The waves are pretty easy and you have shops to rent equipment or get surf courses. The setting is beautiful and the nightlife is very lively with very good atmosphere.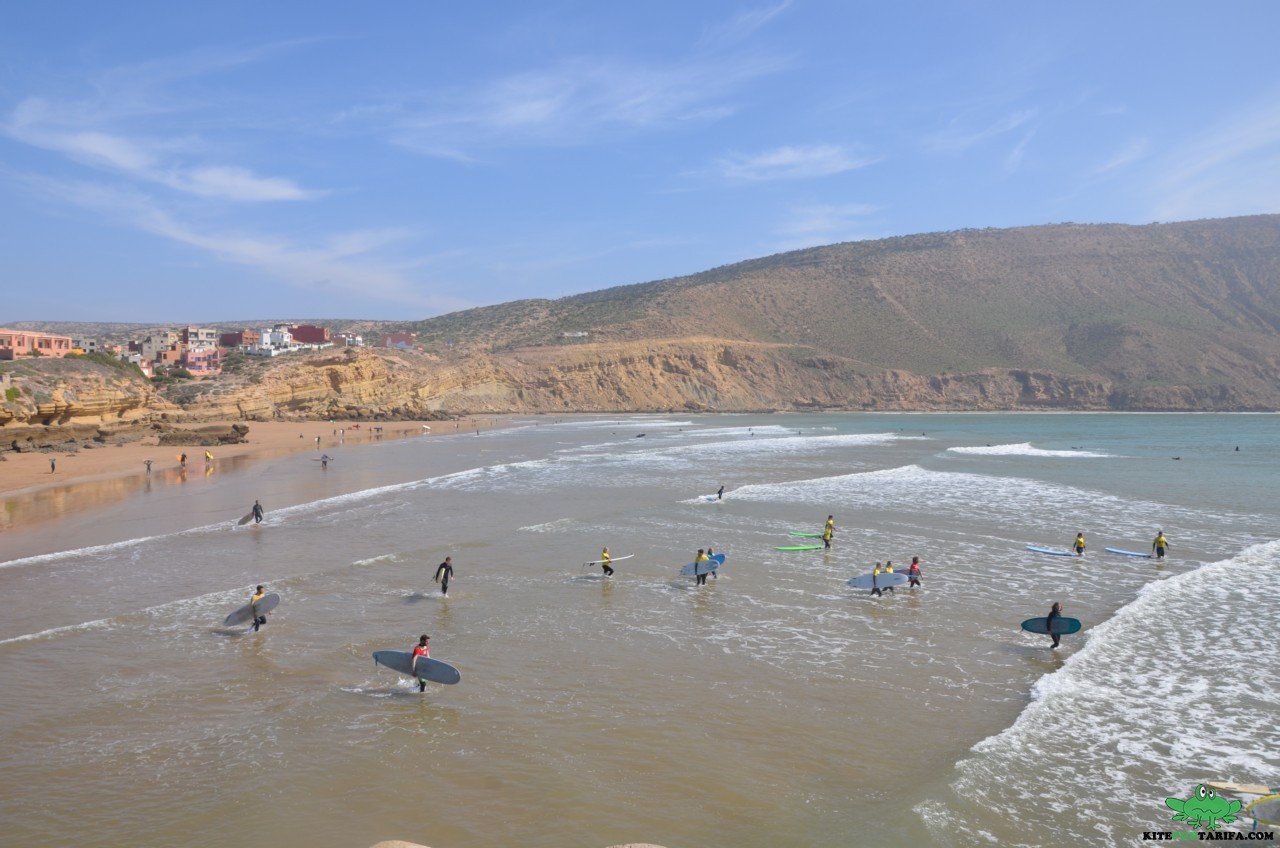 Finally, as a spot to surf on your way to Dakhla, you have Imsouane. It is the easiest spot to surf! The waves are constant and very simple, but you will meet loads of people in the water! Next to the spot there is a place where you can park and sleep, restaurants, shops and everything you might need.
If you had doubts about a road trip to Dakhla, we hope to have helped you with this post. Do not hesitate and make the trip, really worth it! Kilometers of beautiful roads, dunes, experiences, good people, wind, spots with perfect conditions, sunsets that will take your breath away, friends and loads of kitesurf awaits you on your trip to Dakhla!