Interview with Carla Herrera, Pro kitesurfer!
Name: Carla Herrera-Oria
Nacionality: Spanish

Sponsors: Ocean Rodeo, Brunotti, Rick Shapes, Kite Fun Tarifa

Living at: Tarifa

Instagram: https://www.instagram.com/carlaherreraoria

We have Carla Herrera with us, recent winner of the GKA Strapless Tarifa 2018 and current leader of the world tour ranking in this 2018.

Q: Carla, the first thing is to congratulate you for your first victory in a GKA world championship event. How do you feel and how competition developed?

A: I am very happy to take a win at home! We were 6 girls, it may seem few but it is a big difference if we compare it with last year since I had to compete against men. I think this is the beginning of something great!.   
Seems that so much training is paying off. During the event, there were many days of waiting because there were two different disciplines and many riders waiting to enter the water. Competing at home is always more rewarding as i have my people nearby and having a good caddy helps me a lot to be more focused just on my riding.

The competition was complicated and a bit stressful due to the limited wind and the large amount of riders to compete in both disciplines. After a long waiting, the quarterfinals were very good and that day i was truly on fire, but they stop our rounds and pushed us for the next day! In the semifinal I struggle a bit because of the stress of being the first one of the day to compete, since we had changing winds and not too much time to warm up! The final was pretty good and everything went as I wanted! =)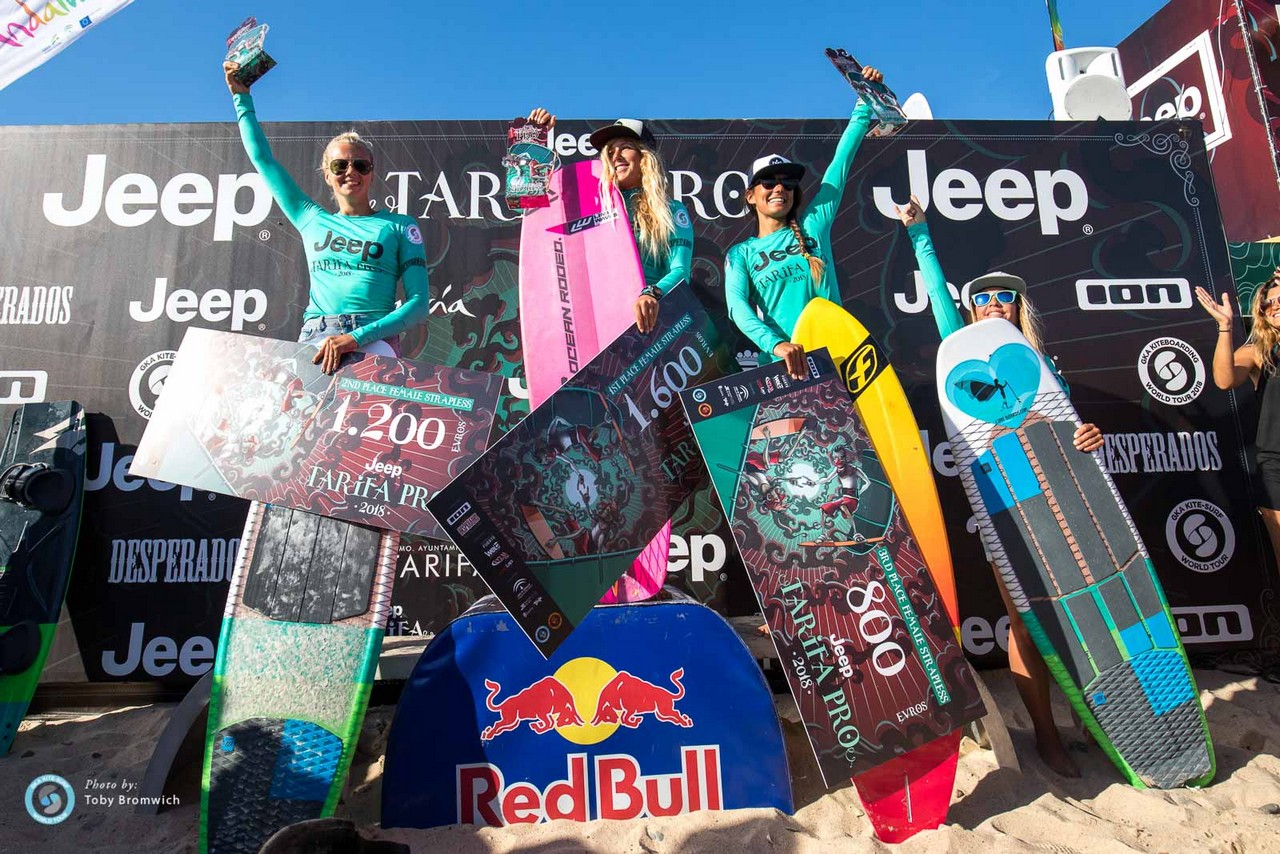 Q: How have your sponsors helped you get to your first victory? What material are you using right now and why?

A: Since the beginning of 2018 season I have been sponsored by Ocean Rodeo, Brunotti and Limit Waves custom boards. For this year, being my first full tour, I set myself the goal of finishing in the world top3 and at the moment it seems that we are doing well! I could not do it without their help! And step by step I'm getting closer to my dream of being world champion. I want to take the opportunity to thank Ocean Rodeo again for making possible for me to go to all world tour events, without them none of this would be possible.

    About my equipment, harnesses and suits comes from Brunotti. Kites, bars and boards are Ocean Rodeo, plus a custom board from Limit Waves.

Q: What do you like most about competitions and what less? Would you change something?

A: What I like the most about the competitions is the atmosphere that is breathed, everyone is willing to help in what is needed and there is no big rivalry between us. It is the best way to see friends who lives far away. Another positive part is that it helps me a lot to keep progressing because I always learn new tricks kiting with them and they motivate me a lot.
What I dislike is the endless waiting at the beach, it's very frustrating to be on the beach all day to get into the water 10 minutes! But waiting is part of the game.
What I would change if I could is the huge difference between male and female prizes ... Easy example, in Tarifa winners of Strapless GKA and Air Games got a free trip to Dakhla and girls nothing. In my opinion I think it should be more equitable.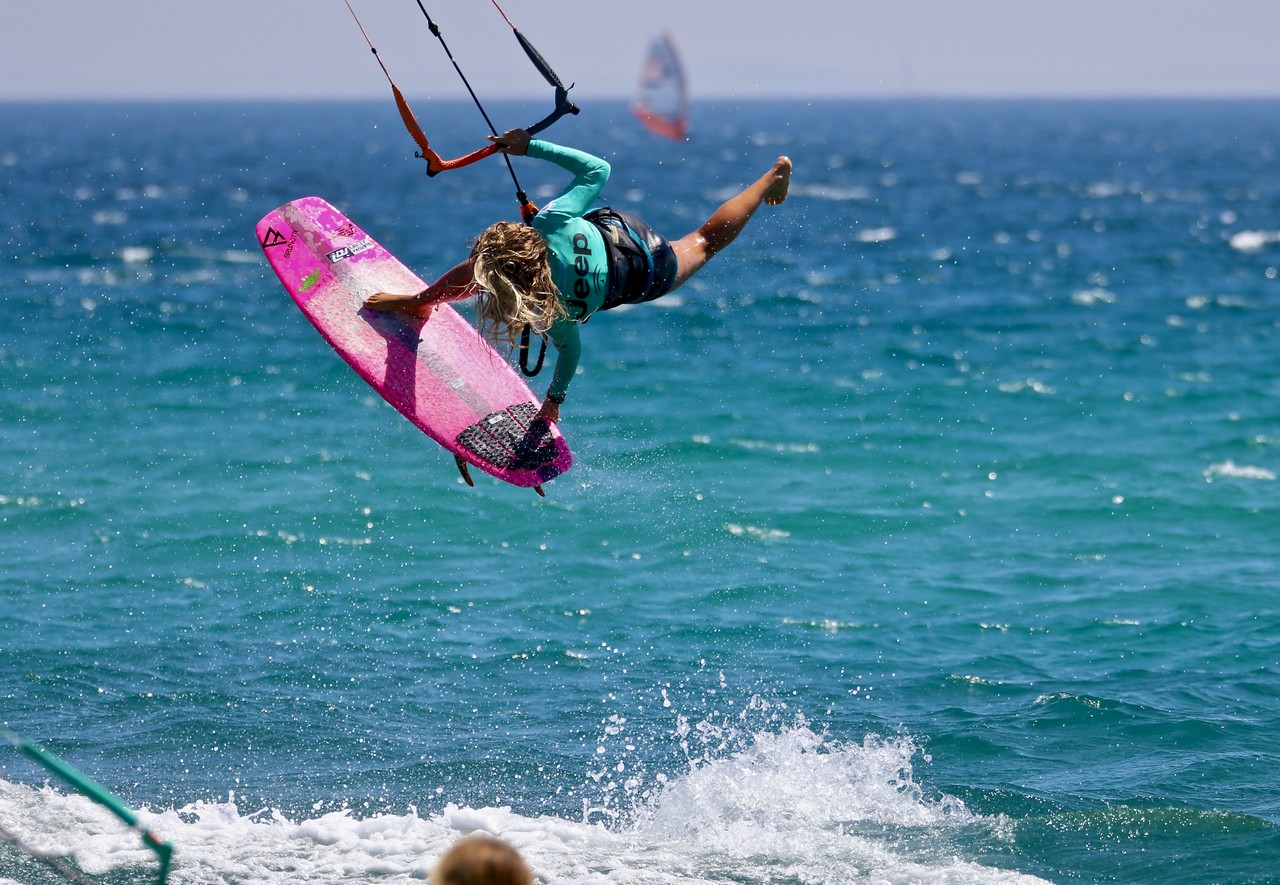 Q: And your training, how do you organize it? Do you do anything else than just kitesurf?

A: I try to spend as long as i can in the water, which gets a bit harder in summer as i work making kitesurf courses at Tarifa as kite instructor. I try to focus in just couple of tricks in each session. Apart from kiting, I work out everyday at the gym to stay fit and keep injuries away.

Q: Do you find in Tarifa the best conditions to train?

A: Tarifa is an amazing place to train freestyle, there is always wind and many different conditions depending on the direction of the wind. We have flat water, chopy and a little kicker to choose from so you can become a complete freestyle rider. On the other hand, the only thing missing are good waves... if I want to train waves I have to move outside because there are no possibilities here.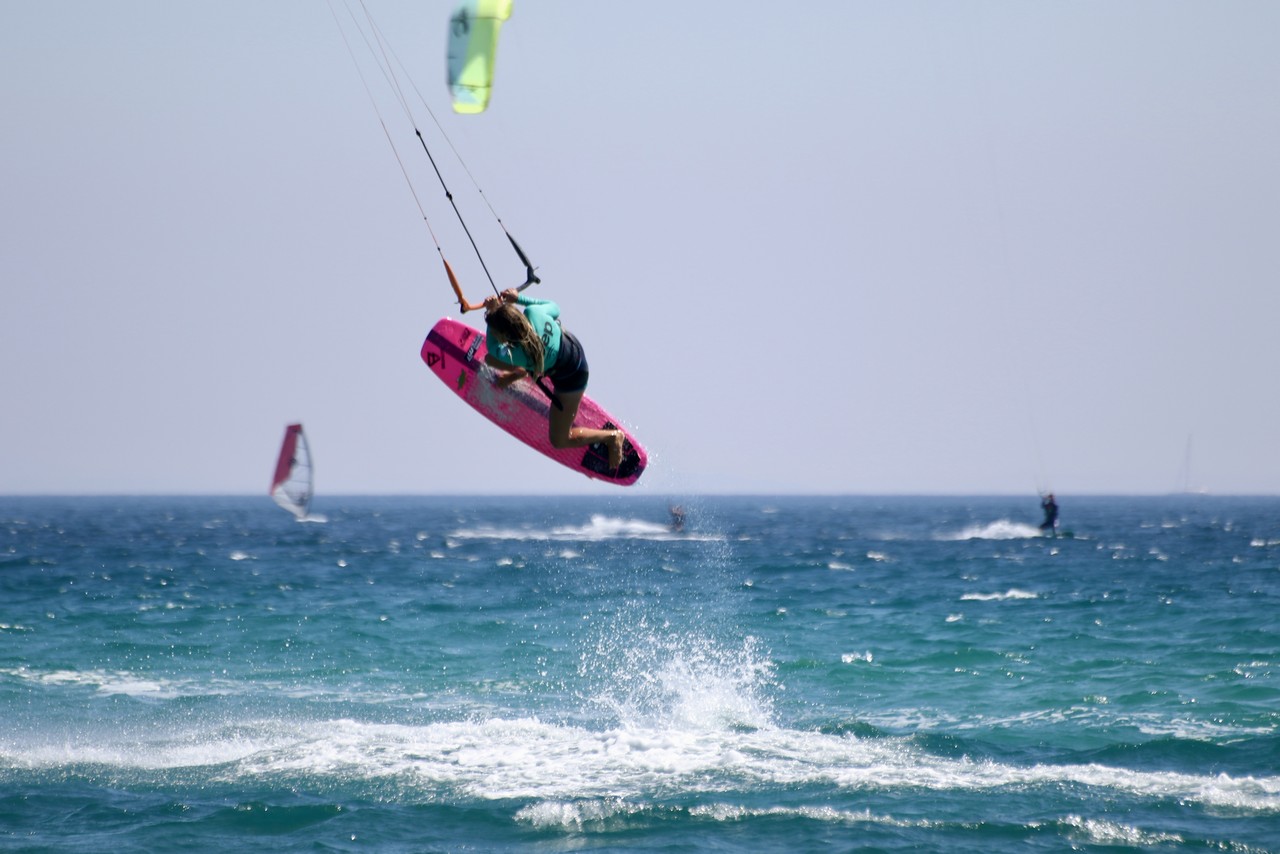 Q: How do you plan next season? What do you have programmed?

A: Between seasons I want to travel to a nice wave spot to train more in waves and push my level up. During 2019 i want to compete in all GKA tour events (waves and freestyle).
I'm also thinking about doing some events of the Air Games, so I will have a lot of action this year! If everything goes well, with the experience I'm taking this year, I hope to improve my results for 2018 and aim higher for the next one !!

Q: Something you want to add?

A: I would like to send a message to all the girls who read this and tell them not to hesitate to come to compete either in waves or freestyle strapless, you will all be well received! We have to push our sport and make it clear that not only are there a few girls, we are many and we have to be respected!